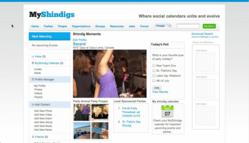 The latest marketing initiative from MyShindigs.com is attracting new users worldwide...
Boston, MA (PRWEB) May 22, 2012
In a recent creative PR campaign by newly launched social networking website MyShindigs.com actual members of the website have been profiled nationally in press releases. The site has reached out to active users and companies in the event industry field that may be benefitting from the platform. Profiled members are given a forum to discuss how the site has helped their companies acquire new clients, manage events and network with other industry professionals.
MyShindigs.com allows event and party industry professionals a platform to plan, manage, promote and broadcast their events and network with related companies and individuals to help one another locally or abroad. In addition to North America new members are signing up in Europe, South America, Australia, Africa, and Asia. Worldwide interest has been peaked and people from all over are rushing to sign up and see what this new social media website is all about. The Shindig Calendar is the epicentre of activity for this innovative social website. It allows members the option to publicly post parties and events for all MyShindigs members to see. People may be invited by the event host or are able to simply search for the event on the site and invite themselves. This online interaction allows members to meet new, fun, like-minded individuals and expand their network of friends, while at the same time enriching their social calendars like never before.
Since launching several months ago the site has been adding new and useful features each month and is becoming an extensive suite of tools that facilitates professionals, entrepreneurs, and the general public in creating bigger and better professional and personal parties and events. 'Over the course of the next month or two we have some new and exciting updates on the way as we move into rich media integration allowing for the promotion of parties in video format' say Jason and Matthew Tautt, Co-founders.
Some of the recently profiled members include the founders of Digital Shutterbug a professional photography services company, the founder of The Planning House an events planning company in Toronto, Canada and Ebonee Chalmers who has recently started her own event planning company in the D.C. area. 'It is very positive and encouraging to learn that our members are already seeing value added from utilizing the tools MyShindigs has to offer event planners and the promotions industry. Making valuable connections and achieving successful results in such a short period of time is affirmation that we are on the right track and giving our users what they need to enhance their business' say Jason and Matthew.
'As with the website itself the idea behind our Highlights Marketing Campaign was to provide a forum for our members to help them build their events related companies, expand their social networks, and acquire new business' say the co-founders. In addition to speaking about the site and their experience with it each profiled member has also been allowed to briefly discuss their own events related company.
The campaign has been helping MyShindigs add many new members across the U.S. and around the world. This initiative is helping their members in more ways than one as the online community of those in the party and events space continues to grow and benefit one another exponentially. Signing onto MyShindigs.com may be exactly what a new or stagnant company needs to help promote and invigorate their company profile. Logging onto MyShindigs.com truly appears to be the place where people's social calendars unite and evolve.
About MyShindigs
MyShindigs is a social networking platform that specializes in allowing members to plan, organize, manage and promote their public, private and company events and parties. MyShindigs allows users to search out, share, follow and join each other's events and parties of interest to expand their social calendar throughout their lives. For more information, visit http://www.myshindigs.com.