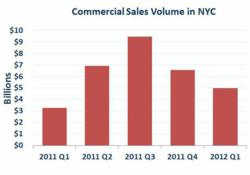 New York City, NY (PRWEB) May 22, 2012
The commercial real estate market in New York City saw a 52% Y-o-Y increase in Q1 2012, with transactions amounting to well-over 4 billion in sales volume (4.98 billion), making this the fourth consecutive quarter surpassing this financial milestone.
The number of closed commercial transactions (849) remained stable in Q1 2012 compared to the previous quarter and rose by 25% Y-o-Y.
Two of the most important sectors, the office and multifamily markets, were up by 34% and 31% respectively. Accounting for half of all the commercial real estate sales, the office market has seen $2.52 billion in volume, while the multifamily sector recorded $1.44 billion.
Manhattan continued to lead with regard to commercial real estate, accounting for 83% of sales, $4.1 billion in all. All of the highest price-tags were seen on Manhattan-based office buildings, and the top-ten sale figures ranged from $390,000,000 to 105,000,000, five of them being transactions over $200,000,000. Overall, the top 10 largest deals generated more than $2 billion approximately 40% in sales volume, which brought them under the spotlight in Q1 2012.
The transactions over $5 million accounted for a total of $4.19 billion in sales in Q1 2012, contributing 84% to the overall commercial sales volume.
Click the following link to see an interactive map displaying all commercial properties sold in Manhattan in Q1 2012.
###
PropertyShark.com provides real estate professionals, investors and savvy homebuyers from most US states with comprehensive property information, including owner name and phone number, building details, comparable sales, foreclosure listings, zoning, violations, maps, mailing lists, and photos. This is done in an effort to offer the transparency essential to evaluate real estate and make informed decisions.