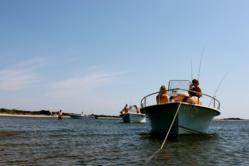 "We really do offer a flexible, easy boating alternative to people who don't have the luxury of having a boat on island during their stay."
Nantucket, MA (PRWEB) May 22, 2012
Island Boat Rental (IBR), a full-service boat rental company on Nantucket, Mass., announces an opening day of May 26 for the 2012 season. After a successful partial season last summer, IBR has expanded its fleet to eleven modern power boats and a sailboat, ranging in size from 16 to 20 feet, offering numerous rental options for friends and family seeking an adventure on the water, a relaxing harbor cruise or the chance to explore.
"The unseasonably warm weather has definitely put boating at the forefront of peoples' minds," said Jim Mondani, lawyer-by-trade owner of Island Boat Rental. "I'm looking forward to the start of the busy summer season when IBR will offer a boating option to explore the waters of Nantucket without the hassles of boat ownership," added Mondani.
Building on the success of the 2011 season, IBR has expanded its fleet from four to 12 power boats and now includes a 17ft catboat as well – the perfect boat for sailing Nantucket harbor – after receiving multiple requests for a sailing option. All of I BR's powerboats are late model center consoles equipped with reliable, regularly maintained Yamaha and Mercury outboard engines and feature Coast Guard approved safety equipment. The expanded fleet is a testament to IBR's and Mondani's commitment to offering a variety of top-quality boats to those who want to experience Nantucket the way it should be – on the water.
"The expansion of the rental fleet enables IBR to accommodate people who desire a simple boating option while on island, whether it's a family spending a day on Coatue, a group of friends fishing off of the jetties, or owners and renters who need a boat moored off of their waterfront property," said Mondani. "We really do offer a flexible, easy boating alternative to people who don't have the luxury of having a boat on island during their stay."
All boats are available for half day, full day, week, or longer rental periods, and can be operated by anyone from a pure novice to an experienced boater. The rates range from $300 to $450 for a half day, and $500 to $750 for a full-day rental. All rates are inclusive of all costs, including fuel expenses.
Island Boat Rental is located at the first slip in the Boat Basin on the Straight Wharf in Nantucket, Mass. Reservations can be made online or by calling 508.525.1001. For more information, visit http://www.boatnantucket.com.