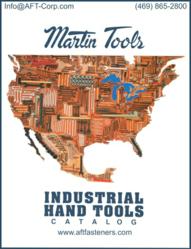 Arlington, Texas (PRWEB) May 18, 2012
For over 50 years Martin Sprocket and Gear, Inc. has produced some of the top quality sprockets, gears and hand tools in the world. They live by the philosophy "American made products to support American industry". Martin Tools also has a wide reaching distribution and support network spanning the entire North American continent. AFT is proud to be established as a distributor of these American forged and quality manufactured tools.
Just as in all manufacturing, the end products are the direct result of the materials that go into making them. Martin Tools uses top grade American forged steel in producing its line of tools. When a customer sees the Martin stamp on a wrench, socket set, or other body & fender tools they know immediately that they are in the presence of top quality American made tools. Martin Tools has over 20 United States manufacturing and sales locations. Together with AFT Fasteners multiple distribution centers customer service and satisfaction is a local endeavor. Starting this month, AFT will be making available the entire Martin hand tools line up.
The parts manufactured by Martin are fully certified, providing traceability and complete documentation. Quality assurance at Martin is documented and ensures that each forging. Martin provides full heat treat capabilities including batch type, or atmospherically controlled, depending on the desired mechanical and physical properties needed in the forging.
AFT Fasteners is a fastener manufacturing, importing, distribution, plating and industrial services company "All-in-One", offering turn-key cost effective solutions to our customers. AFT also supplies high-quality standard, non-standard and specialty fasteners and hardware products. AFT serves customers with sales and distribution centers throughout the United States, and this allows them to provide expedited industrial tools, services and parts. Please contact AFT's professional sales staff at info@aft-corp.com or call (877) 844-8595 for information on how AFT Fasteners can provide your business with high quality trailer manufacturing parts and services.