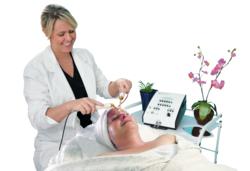 "It is truly a pleasure and
extremely rewarding to
watch the Myotonology®
system transform my clients'
skin tone, complexion, and
especially their self-esteem."

– Heather Porter
Licensed Esthetician,
Certified Myotonologist
Wilmington, NC (PRWEB) May 19, 2012
Myo Med is pleased to announce that our patented MicroLift units are now available to physicians and medical spas. Our unique treatment focuses on toning the facial muscles and increasing skin circulation. This procedure replenishes moisture and hydrates the epidermis giving a more youthful and healthy glow to the skin. Reduction of fine lines and wrinkles is noticeable after the first treatment and is more pronounced after a series of treatments. Skin will look healthier, younger, and more refreshed.
Our patented facial toning therapy is practiced around the world. As the industry pioneer, Myo Med sets the standard for microcurrent facial technology and is poised for significant growth in both the medical and skin care markets.
Myotonology® uses a sequential, 9-step process that relaxes, tones and strengthens more than 30 facial muscles. Some muscles in the face need to be relaxed, such as the forehead and chin, while others need to be strengthened and toned, such as those around the eyes and cheeks.
Treatments are 45 to 60 minutes in length. The device supplies low levels of electric stimulation via two electrodes that pinpoint specific muscles to achieve the best results. Competing therapies use a one-prong, rolling technique that applies the same level of stimulus to large areas of the face, but fails to pinpoint specific muscles.
Myotonology® is unique in its ability to control the frequency of electric impulses applied, which determines whether the device is relaxing, strengthening or toning facial muscles. Competing products are pre-programmed with one impulse frequency and cannot provide the range of muscle activity that characterizes the Myotonology® treatment. Initial treatments begin at a lower voltage and increase over time, just as a trainer increases the intensity of workouts over time.
Treatments are provided by trained, certified Myotonologists who undergo 8-hours of hands-on training to ensure they are adept at the precise, patented technique that is unique among microcurrent treatments on the market today. To receive certification, Myotonologists must complete a training course, pass a written exam and complete a minimum of 15 supervised client treatments.
This facial toning system is based on a series of sessions that have a cumulative effect. The number of sessions in a series is specific to each client.
The Products:
1. MicroLift® Facial Toning Device - lightweight, portable, ergonomically designed microcurrent unit that emits a current up to 960 Microamps. It is essential in order to perform Myotonology®.
2. Myo® Firming Gel - used during treatments to create conductivity and improves microcurrent penetration.
3. Ionized Ampoule Solutions - Specialized ampoules such as C complex, Firming-Elastin, and Collagen-Hydrating are used during Myotonology® treatments to provide essential nourishment to the skin and help the overall effect of the treatments.
4. Myo® Essentials - skin care line for post treatment and home maintenance programs. Myo® Essentials have been created by top industry professional and are made with only the highest quality botanical ingredients.