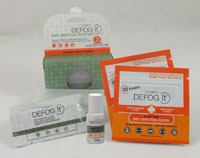 The success at Isis Sugar is a real-world demonstration that Defog It anti fog works and helps increase safety eyewear compliance.
Valley View, OH (PRWEB) May 18, 2012
The safety management of Isis Central Sugar Mill Company in Childers, Australia, recently selected Defog It anti fog to help prevent fogging of safety eyewear, which can improve compliance with eyewear mandates. "Defog It is truly amazing," says Peter Whelan, Isis' Workplace Health and Safety Officer. "I selected some of the more arduous tasks and skeptical workers for a trial, and they were amazed at how effective the Defog It wipes actually keep the glasses clear…or only momentary fogging occurs."
Isis, which processes more than 200,000 tons of sugar annually, had recently introduced compulsory eye protection to help prevent dust and foreign body eye injuries. "We started to run into problems with compliance in our manufacturing process as we use a significant amount of steam throughout the plant which causes hot and humid environments," says Peter Whelan. "Then as the warmer tropical months approached, our outdoor workers were suffering the same fogging problems – especially during night work."
After successful testing, Defog It anti fog was made available to all Isis workers. The results have been positive. When asked if Defog It was successful in improving compliance with safety eyewear mandates, Whelan responds, "There's a very short answer to this one – YES."
"Defog It anti fog was developed to keep safety eyewear fog free in the toughest hot, humid environments, says John Swett, Vice President of Sales and Marketing for Nanofilm, maker of Defog It. "The success at Isis sugar is a real-world demonstration that Defog It works and helps increase safety eyewear compliance." A complete case history is available at http://www.defogitworks.com.
First used by the military worldwide, Defog It anti fog is the proven choice for safety glasses, safety goggles and other eyewear. It provides all-day fog prevention in the toughest environments where heat, cold, humidity and exertion cause fogged eyewear. The product is safe and effective on shooting glasses, eyeglasses, sunglasses, goggles and faceshields and all optics.
Lab tests confirm the anti fog's high performance. In one test, a lens treated with Defog It was held over constant hot steam for 60 minutes without fog forming. Similar products failed in as little as 5 minutes. In another test, lenses coated with Clarity Defog It were moved between cold and hot environments 100 times without fog forming.
Defog It anti fog (http://www.defogitworks.com) is available as a liquid or reusable cloths. More information, pricing and performance videos are available at the website or by calling 1-888-ENDS-FOG.
Nanofilm, [http://www.nanofilmproducts.com, founded in 1985, is the maker of Clarity Defog It and a global optical leader in lens care and coatings. Millions of people around the world use Nanofilm products, including Clarity Clean It™, Clarity Defog It™ and other lens care products, as well as nanotechnology-enabled coatings.