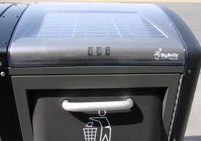 Manchester, CT (PRWEB) May 19, 2012
The City of Hartford shows their commitment to being a leader in Connecticut in reducing their carbon footprint, saving money and labor, and beautifying the city of Hartford. To achieve this they are collaborating with Dawn Enterprises on improving their waste removal program and implementing BigBelly Solar Trash Compactors.
The City of Hartford expressed to Dawn Enterprises; the exclusive distributor of BigBelly Solar in Connecticut, Rhode Island, and Western Massachusetts, their interest in the Solar Powered Compactors. Over 20 BigBelly's are already deployed in Bushnell Park and other parks in the city. In order to maximize their return on investment Hartford has ordered 37 more BigBelly's through Dawn Enterprises and is working together with them on placement and management of BigBelly's cutting edge "Smart Grid" technology.
Not only are BigBelly's able to use solar energy to compact the trash they are equipped with "Smart Grid" communication technology that allows the city to monitor when the compactors are full and when they need to be emptied, allowing savings in trash collection. Placement and understanding how to manage the trash compactors is essential in maximizing the reduction in the costs associated with traditional waste removal. Dawn Enterprises is excited to work with both the City of Hartford and BigBelly Solar in helping Hartford eliminate wasteful spending by only emptying compactors when they are full of waste.
Dawn Enterprises is also a manufacturer of concrete site furnishings and will supply the City of Hartford with the concrete slabs to place the BigBelly Trash Compactors on for ease of placement. In addition they also manufacture concrete benches, tables, bollards, planters, and more and have metal and fiberglass product lines as well. For more information on Dawn Enterprises visit http://www.godawn.com or call a friendly sales representative at 1-800-262-3296.