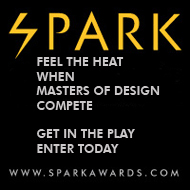 ...seeks out top designs from around the world.
New York, New York (PRWEB) May 22, 2012
Spark has long held a strong following of product designers. Now it is devoting a competition specially targeted to this important design discipline.
"Product and Industrial Design includes some very interesting work," says Peter Kuchnicki, Director of the Spark Awards. "This diverse group includes everything from electronics to bathroom fixtures, furniture to kitchen tools, gadgets to gizmos. It's great fun to see the entries as they arrive and to judge them."
Entries are already coming in at http://www.sparkawards.com during this, the Earlybird Discount phase of the competition (ending June 1). Savings on entry fees of up to US$100 can be obtained for fast-acting firms. (Standard pricing begins June 2.)
The Spark:Product competition seeks out top designs from around the world, using expert juries to analyze the entries and discover what's truly an advance. The Spark Criteria provide a unique filter that rewards innovation, efficiency and sustainability—all vital factors in a world of limited resources.
Top Level Jury Is Gathering
The Spark:Product Award Jury will consist of 12 jurors, including multi-disciplinary designers, journalists, academics and other experts. They will judge in San Francisco at the Autodesk Design Gallery.
The Bench includes:
Joe Doucet, Principal, Joe Doucet Studio, NY
Andrea Ruggiero, Principal, Andrea Ruggiero Design & Adjunct Prof., Parsons New School For Design, NYC
Gabriel Dan, Principal, Studio Fresco, San Francisco
Charles Rozier, Principal, Rozier Design, Adjunct Professor, Philadelphia University
Anna-Pia Slothower, Partner, Deap Design, Greater San Francisco
Chris Ertel, Partner, Monitor Group, Doblin Strategic Design Planning, San Francisco
The Spark Jury Criteria can be described as simple and modern. Is the design fresh and innovative? And does it somehow improve the quality of life, contributing to happiness, progress, sustainability? As Kuchnicki explains, "These Criteria spell out the Spark Mission to improve our world and the lives of people in it. This is what makes the Spark Awards unique—and we think, very special." More and more designers seem to agree, as evidenced by record numbers of Spark entrants in 2011. More than a third of these were from Asia, a strong indication of the international scope of the competitions.
Spark:Product is one of five Spark Design Awards. More information about this organization and these competitions can be found at http://www.sparkawards.com.
Bonus Background Info:
TRANS:MISSION
The Spark mission is to promote better living through better design. The criteria are the same for all Spark competitions: does the design "Spark," i.e., innovate, change the game and in some way help humanity or the environment we live in. The Spark founders believe Design is an important, relevant tool to help build a better world. We feel that Design and designers act as catalysts, addressing problems and improving our lives and our Earth. Designers may be from anywhere, of any age, of any education. But they design!
Spark is a bold new competition—a unique crossroads of design, where the interests of all participants in the community are represented and their strengths brought to bear. Spark leaps beyond the mid-century view of design. In this new world, how do the best ideas and best designs gain recognition? SparkAwards will validate superlative designs from professionals. But we also need a filter for the best novice designers and innovators, too. The world is now participating in design—let's enable the best formgivers to rise to the top.
Spark is about Change—designed change. Change for the better: studied, researched, cognizant of criteria like sustainability, suitability, context, inventiveness, process, universality—and yes, beauty.
Ultimately, one must ask why this is important. Commerce is important, but it is a means to an end. We might call the real goal "betterment." Better lives, better health, better water, better air. It's all the things that add up to the quality of life. Great design can help us get there. Do your part—make designs that make a difference. We'll help.
The Spark Design Awards—where modern sensibilities and priorities are aligned.