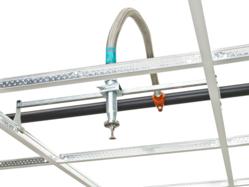 Easton, PA (PRWEB) May 18, 2012
Victaulic, a leading global producer of mechanical pipe joining and fire protection systems, introduces the new Style AB1 Bracket, an extension to the existing AquaFlex® sprinkler fitting line of products. This new AquaFlex bracket eliminates the need for sprinkler installers to handle ceiling tiles, cut holes in ceiling tiles and coordinate with the ceiling trade on the jobsite, reducing hands-on installation time by as much as 39 percent.
"The new Style AB1 Bracket is an intuitive solution and we are excited to introduce it as an extension to the AquaFlex product line," said Tom Savage, product manager, Fire Suppression Systems. "This new bracket delivers a new level of installation ease and dependability by allowing the ceiling trade to install all ceiling tiles. The AB1 Bracket is designed so that it does not obstruct or damage ceiling tiles, providing a faster and simpler installation, saving time and money for our customers."
The Style AB1 Bracket benefits from all the great qualities of the AquaFlex one-piece bracket system, including:

Patented 1-Bee2 open-gate technology
Superior quality braided hose offering with mechanical unions
Optional pre-assembled sprinkler systems
The Style AB1 Bracket can be used with Series AQB Braided Systems (FM Approved) for suspended or hard commercial ceilings and is available in 24" and 48" lengths.
The AquaFlex product line offers fast and dependable installation, durable performance and is cost effective for maintenance and retrofit applications.
About Victaulic
Founded in 1925, Victaulic is the world's leading producer of mechanical pipe joining systems. Headquartered in Easton, Pa., Victaulic has manufacturing and distribution facilities worldwide and employs more than 3,500 people. The company develops products and services for some of the world's most demanding markets, including oil, gas and chemical; mining; power generation; water and wastewater treatment; and military and marine systems; as well as commercial building and fire protection applications. Keep in touch with Victaulic on Facebook, Twitter or LinkedIn.