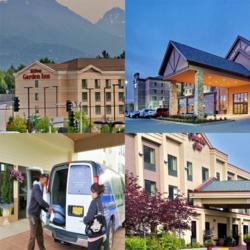 Anchorage, Alaska (PRWEB) May 17, 2012
Four Anchorage, Alaska hotels help cleanup when they participate in Anchorage Citywide Cleanup Week this year. Cleaning up the grounds and sidewalks around their hotels helps contribute to keeping Anchorage beautiful during the spring and summer months and ensure the hotel guests see the same sparkling niceties outside that are proficient inside the hotels.
The Hampton Inn, Embassy Suites, Homewood Suites & Hilton Garden Inn hotels in Anchorage offers free shuttle service to Ted Stevens International Airport and to downtown Anchorage just minutes away. Enjoy your choice of spacious Anchorage hotel accommodations and variety of amenities while you plan your day in Anchorage. All hotels are proudly managed by Stonebridge Companies in Denver, Colorado.
Founded in 1991 by Navin C. Dimond, Stonebridge Companies is a privately owned, innovative hotel management company headquartered near Denver, Colorado, which has developed over 60 hotels and operated more than 75 lodging properties. Currently, Stonebridge Companies operates over 47 hotels comprising in excess of 7,000 guest rooms in Alaska, Arizona, California, Colorado, Nevada, Utah and Virginia. The diverse portfolio includes select-service, extended stay, mid-scale and full-service hotels in primary and secondary markets. For detailed information, visit our website at http://www.SBCOS.com.