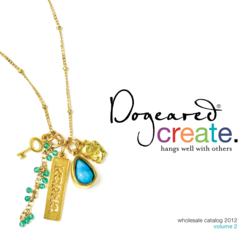 CREATE is a collection of Dogeared charms, words, & gemstones that are put together to created necklaces that are personal, meaningful, & beautiful.
Los Angeles, CA (PRWEB) May 17, 2012
Dogeared Jewels & Gifts, a trendsetting fashion brand known for innovative designs and a cool California aesthetic, is proud to present Dogeared CREATE Volume 2, adding over 100 new options to the core collection launched last year.
Dogeared's CREATE Collection gives consumers the opportunity to assemble unique necklaces that have personal meaning. With hundreds of options, CREATE quickly became one of Dogeared's hottest selling collections, offering meaningful pieces to wear and to give, in limitless combinations.
CREATE Volume 2 presents an expanded selection of charms, gems, word pendants, chains, and themes, increasing the possibilities for self-expression, inspiration, and motivation.
Gems bring good energy and happy colors. Dogeared has added hand-wrapped briolette gems, teardrop gem pendants, and cascading clusters of gems and beads, in new colors including citrine, garnet, and olive quartz.
Put it in writing with the power of words, new Words to Live By give CREATE a voice. Phrases, including Free Spirit, Live by Faith Not by Fear, and Be Happy, enhance the possibilities for self-expression and meaningfulness.
Sign Mantras empower consumers to declare it and wear it. New offerings ranging from Faith, Love, Karma, Luck and Peace, to Balance, Dream, Explore, and Blessed, join categories that include Balance, Believe, Written in the Stars, Luck, and Amore.
Nearly 30 new intricately designed and hand-cast charms are included in Volume 2, including a baby carriage, an ankh, a simple key, and a love-struck heart. All are cast in recycled sterling silver, and some are then gold-dipped.
New charm groups include Hobbies, with 9 new designs, including a chef's knife, a camera, and a tennis racket. The animal group has grown substantially, with a new panda, ducky, penguin, and monkey, among the other new critters.
All charms and settings come in sterling silver and gold dipped, with prices ranging from approximately $14 to $50 and are featured in a wholesale catalog.
Dogeared Jewels & Gifts
Designer Marcia Maizel-Clarke founded Dogeared Jewels & Gifts just over 20 years ago in Southern California. Originating word jewelry, she began creating beautiful pieces with the purpose of putting positive, peaceful, and loving energy into the world. This energy has always included being kind to the planet, handcrafting all the jewels and gifts in California, and working with non-profit organizations sharing a vision of a better world. Dogeared's unique, custom-cast jewels are regularly featured in fashion, lifestyle, and celebrity publications, in films and on television shows. Trendsetting retailers around the world, including Nordstrom, Neiman Marcus, Bloomingdale's, Fred Segal, and ABC Home, all carry Dogeared. Dogeared is a certified B Corporation. Please visit http://www.dogeared.com for Dogeared's online flagship store. For wholesale information, visit http://www.dogearedwholesale.com.