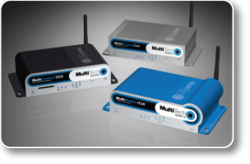 Minneapolis, MN (PRWEB) May 17, 2012
Multi-Tech Systems, a world leader in M2M (machine-to-machine) communications products and solutions, announced two new product offerings to meet more customer needs. Set for availability this fall, an embedded cellular modem in a mini PCIe form factor and a new intelligent wireless router with enhanced features were presented to attendees of the spring CTIA show in New Orleans last week. Both offer combination Wi-Fi®/Bluetooth® connectivity, GPS tracking capability and penta-band HSPA+ 21 or EV-DO Rev A, backwards compatible to EV-DO Rev 0 and CDMA 2000 cellular technologies.
In addition, visitors of the Multi-Tech Systems booth were asked to provide their input on three new chassis designs. The results are still being tallied at http://www.multitech.com/ctia/chassis.go, where the company now invites feedback from the entire M2M community.
The MultiModem® rCell intelligent HSPA and EV-DO wireless routers have always provided a high quality, reliable way to integrate into virtually any application. Now, this carrier approved, ready-to-deploy family of routers will soon offer an enhanced feature set, which includes multiple Ethernet ports, Power over Ethernet and a new look.
Multi-Tech Systems' next generation embedded cellular modem is a complete, ready-to-integrate communications device with a mini PCIe card format. This new embedded device is an exciting extension to the successful SocketModem® family of cellular modems that our customers have been using for years. Developers can easily add wireless communications to products with a minimum of development and expense, while providing a wide variety of user options. Serial and USB models will be available with USB 2.0 high speed compatibility.
For more information on these products, please contact our sales team at sales(at)multitech(dot)com. For more information on enabling M2M communications, visit http://www.multitech.com or register for an upcoming educational webinar. Multi-Tech is offering an M2M series with three topics: M2M 101, Embedded M2M Simplified and Integrating M2M into Medical Devices. Register at http://www.multitech.com/training/m2m.go.
About Multi-Tech Systems
Multi-Tech Systems offers the industry's most comprehensive M2M (machine-to-machine) communications products and services portfolio available today. As a leader in the industry for more than 40 years, Multi-Tech's reputation for reliability and innovative design is evident with 80+ patents, 20+ million devices being used by thousands of customers worldwide and certifications from more than 30 carriers and over 80 countries. Multi-Tech is certified by the WBENC as a Women's Business Enterprise and by C-TPAT (Customs–Trade Partnership Against Terrorism). Visit http://www.multitech.com. Follow Multi-Tech on Twitter: http://www.twitter.com/MultiTechSys.