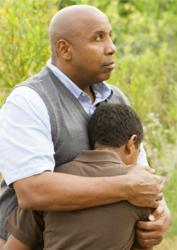 During adolescence, many young people become bereaved due to the death of a family member, loved one, or friend.
Eugene, OR (PRWEB) May 21, 2012
"During adolescence, many young people become bereaved due to the death of a family member, loved one, or friend," says Steven Ungerleider, PhD., founding editor of The Prevention Researcher. "While most youth are resilient and recover from grief fairly soon, other youth have more difficulty and may need the help of supportive adults."
In an article published in The Prevention Researcher, Professor David Balk, Ph.D., who directs Graduate Studies in Thanatology at Brooklyn College, provides an introduction to adolescent development and bereavement, exploring its two key components and defining key terms in the grief and bereavement field.
"During adolescence," says Dr. Balk, "development forms the back drop to how a youth cope with irrevocable loss. In order to understand how grieving youth respond to the loss of a loved one, it is important for counselors, clinicians, and others working with youth to understand how bereavement impacts adolescent development and how adolescent development impacts bereavement."
Balk notes that to begin understanding the process, "it is important to point out that the terms bereavement, grief, and mourning have distinct meanings. Bereavement refers to being in a state of loss, grief to the reactions to being bereaved, and mourning to expressions of one's grief."
In addition says Balk, "it has become useful in the past several decades to adopt the idea that adolescent development occurs in three phases: early adolescence, middle adolescence, and later adolescence (an idea introduced by Peter Blos in 1979). Early adolescence is considered to extend from approximately the ages of 10 to 14, and is marked by the onset of puberty. Middle adolescence extends from the ages of 15 to 17, and later adolescence extends from the ages 18 to 22."
To identify the link between adolescent development and issues facing bereaved adolescents during each stage, Balk presents a model developed in the mid-1980s by Stephen Fleming and Rheba Adolph. Their model "proposed that bereavement requires adolescents to cope behaviorally, cognitively, and affectively with five core issues: the predictability of events, mastery/control, belonging, fairness/justice, and self image. Additionally, the content of these behavioral, cognitive, and affective responses change according to the adolescent's current maturational phase." In the article, the author provides tables that summarize the central matters of cognitive, behavioral, and affective responses to the five core issues.
According to Balk, "Three structural features are required for a person to be bereaved: 1) The person must value someone or something (for instance, a father, a reputation, or an ability); 2) What the person values is taken away irrevocably, for instance, an adolescent's best friend is killed in a car crash; and 3) The person is left to grieve this loss." He notes that, "bereavement impacts a person on several dimensions (physically, cognitively, emotionally, interpersonally, behaviorally, and spiritually), and is often more intense and lasts longer than unaffected outsiders expect."
Balk says that, "to understand how youth respond to bereavement, it is helpful to explore how bereavement, grief, and mourning have been explained, most of which is based on work with adults." He describes explanations of bereavement based on work of Sigmund Freud, John Bowlby, and new understandings of bereavement that have emerged as well as discusses challenges to traditionally held views from research done by George Bonanno.
In the final section of his article, the author defines two unique terms in the grief literature – disenfranchised grief and complicated bereavement. Disenfranchised grief involves losses that are considered, "outside the boundaries of what mainstream society judges acceptable for bereavement. Examples of these kinds of losses include the death of a pet, loss of a fetus due to miscarriage, and death of a celebrity." Complicated bereavement is indicated in a person, "whose bereavement is complicated has grave trouble acknowledging the death, feels extremely lonely and empty, is emotionally isolated from others, finds life without meaning, and feels helpless."
Dr. Balk concludes his article with a recommendation that, "a significant focus for ongoing research with bereaved adolescents is to examine how they cope and how, in my estimation, the great majority emerges more mature and empathic than their unaffected peers."
For a copy of the complete article on "Adolescent Development and Bereavement", link directly to The Prevention Researcher or http://www.tpronline.org
About The Prevention Researcher
Founded in 1994, The Prevention Researcher is published by the non-profit, Integrated Research Services in Eugene, Oregon. The quarterly journal focuses on successful adolescent development and serves professionals who work with young people in a variety of organizational settings.
Each issue of The Prevention Researcher covers a single topic, presenting the latest adolescent behavioral research and findings on significant issues facing today's youth. The journal provides information about programs that create supportive environments for youth, strategies for preventing problems affecting adolescents, and resources that help youth-serving professionals.