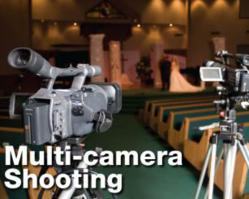 Chico, CA (PRWEB) May 22, 2012
Videomaker magazine has released a complete guide to the single most essential aspect of event videography, just in time for the spring wedding season. Learn how to juggle the demands of multiple cameras with a free report from Videomaker Magazine, Multi-Camera Shooting for Event Videography.
As the warm spring and summer weather approaches, it's the time of year for weddings, concerts, and outdoor sports – all the exciting events that are a videographer's bread and butter. But event videography also presents one of the toughest challenges, because, unlike almost any other sort of videography, an event videographer has only one shot to get it right.
There's no way that a couple is going to agree to restage their entire wedding just because the videographer messed up a shot, and likewise no band is going to put on a repeat performance because the videographer forgot to prepare right. Naturally, every camera person needs to be on their A-game for any event videography job, be it a birthday party, a sports game or even a political speech. One of the best ways to make sure to catch all the action is to use multiple cameras.
ABOUT VIDEOMAKER
Founded in 1986, Videomaker was the first magazine to introduce video to a mass, non-industry audience. Though the video field has exploded dramatically in recent years, Videomaker still remains dedicated to its core mission: To encourage aspiring directors and documentarians to use video technology to find their own voices and tell their own stories. Today, Videomaker is more than just a magazine. It's grown to also become a robust online community, offering a full line of training DVDs, videos-on-demand and a series of webinars and hands-on video training workshops. Every month, more than 50,000 professional videographers, independent filmmakers, and home video hobbyists turn to Videomaker to get the latest video scoops.
Visit http://www.videomaker.com/r/625 to download your free report, Multi-Camera Shooting for Event Videography.