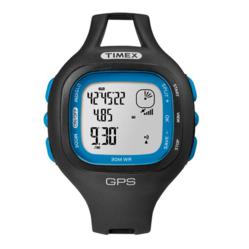 The simplicity of use, great price point and the fact that there is no strap involved make this a great product for exercisers that want the basics and no real complication
Bozeman, MT (PRWEB) May 17, 2012
The Timex Marathon GPS is a cool GPS watch option for runners, cyclists and other outdoor sports because it offers both average and real-time pacing data including accurate distance. It is ideal for athletes that want pacing information but prefer not to wear a heart rate chest strap and it is affordable.
"We are really psyched about the Timex Marathon GPS because it offers both running and cycling modes" says Rusty Squire, President of the Heart Rate Watch Company. He adds, "It is the ideal GPS watch for those who don't want a heart rate monitor but prefer pacing data for running, cycling, walking or just about any outdoor sport".
Indeed the simplicity of use and pure pacing functions hold appeal for a lot of walkers, runners, cyclists, inline skaters, skiers and more but the real crux of the Timex Marathon GPS is that it is a GPS watch at a sub-$100 price point meaning that most anyone can afford it.
"All of the other GPS watches up until this year have been $200, $300 and even $400" states Squire. He continues, "Granted they do more stuff but some people just want basic information and an affordable price point and that did not exist until now."
The Timex Marathon GPS is water resistant to 30 meters, roughly 90 feet, and features an Indiglo back light for low light situations that illuminates the screen for 10 seconds at a time. The watch also shows time and date and when placed in running mode shows pace in minutes per mile, or per kilometer along with distance in miles, or kilometers and hundredths. The cycling mode shifts the display to show miles, or kilometers, per hour which is convenient for lots of different outdoor sports.
The watch unit takes about 60 to 90 seconds to acquire GPS signals and then users simply need to select a mode, run or bike, and hit the start/stop button.
"The simplicity of use, great price point and the fact that there is no strap involved make this a great product for exercisers that want the basics and no real complication" says Squire. He adds, "This is strictly a pacing and distance device that is accurate, nothing more and nothing less".
Breaking the $100 barrier on entry-level GPS watch units is a big deal and this is precisely what the Timex Marathon GPS has accomplished.