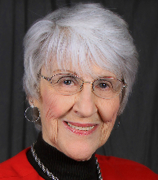 "I always had easy access to editing and production staff as well as technical help at DLO and that made everything workable".
Oldsmar, FL (PRWEB) May 24, 2012
Dynamic Learning Online, Inc. is proud to celebrate and honor one of our cherished and committed author and the practice of pediatric occupational therapy, Rhoda P. Erhardt, MS, OTR/L, FAOTA.
Dynamic's association with Mrs. Erhardt began in Dynamic's infancy and she has continued to contribute throughout her 12 year association with the company, growing along with the company. When asked what made Mrs. Erhardt make that first call to join the company as an author in 2001, she stated "I just couldn't miss the opportunity to try something different" and remembers how she "thoroughly enjoyed the interaction we had with students through discussion posts that students made and then I responded to". She added "I always had easy access to editing and production staff as well as technical help at DLO and that made everything workable".
Mrs. Erhardt first contributed with several titles in pediatrics at http://www.dynamicrp.com: Hand Problems in Children with Disabilities and Motor Components of Vision in Children with Disabilities, and just recently launched additional pediatric courses in Skill Development Models for Intervention Eye-Hand Coordination, Hand Preference Issues & Applications to Practice and Improving Handwriting without Teaching Handwriting, all in the year celebrating 80 years young!
Mrs. Rhoda P. Erhardt, MS, OTR/L, FAOTA, received her B.S. in occupational therapy from the University of Illinois, and her M.S. in child development and family relations from North Dakota State University. She was trained in pediatric Neuro-Developmental Treatment of cerebral palsy (NDT) in London, England. The former director of the Easter Seal Mobile Therapy Unit in Fargo, North Dakota, she has been in private practice in the Minneapolis/St. Paul area, providing evaluation and consultation services to a variety of health agencies, educational systems, and national corporations, as well as presenting workshops throughout the world.
She describes how having online courses provides to her a means to connect with students, she stated "most exciting part was to be in contact with therapists all around the world and we got into very interesting discussions". The experience to communicate with therapists all over the country and overseas has given her "a better perspective of what therapists need to learn", stated Erhardt.
Mrs. Erhardt believes that most therapists want both onsite and online education but for many "online learning is a fabulous opportunity for therapists who may not have otherwise due to location or funding restrictions to attend onsite course….online offers the flexibility to work on the course when your schedule allows and to have interaction with other students and instructors as often and as much as you want, those are real advantage to learning online".
Mrs. Erhardt has served on the Editorial Board of the American Journal of Occupational Therapy, the first licensure board of North Dakota, and was enrolled in the AOTA Roster of Fellows in 1983. She received the Certificate of Appreciation for Distinguished Service to the Profession from AOTA in 1993 and the American Academy for Cerebral Palsy and Developmental Medicines Sage Award. Additionally, she received the Certificate of Appreciation Award from the Minnesota Occupational Therapy Association in 2006, and the Alumni Achievement Award for Outstanding Professional Success and National Distinction from The University of Illinois in 2011.
Her publications include books, chapters, journal articles, assessments, and DVDs on topics such as normal and atypical development of hand function, hand preference, handwriting, vision, visual-perceptual-motor function, eye-hand coordination, and feeding in children with cerebral palsy and learning disabilities. In 1989 she founded Erhardt Developmental Products, a company that produces and distributes a variety of pediatric resources.
Visit http://www.dynamicgrp.com to learn more.
About Dynamic Learning Online, Inc: Based in Oldsmar, FL Dynamic Learning Online, Inc. has been in the forefront of e-learning education for healthcare professionals since 2000, offering the learner time-sensitive, affordable continuing education to CEUs in an e-learning web-based community over the internet at http://www.dynamicgrp.com. Their library offers a diverse library of courses online for physical, occupational therapists, speech language pathology, Athletic trainers, and other related professionals, and holds national and international accreditations: AOTA, ASHA, BOC-NATA, CGC, NCCAP, and as well as multiple state approvals for Physical Therapy.
###