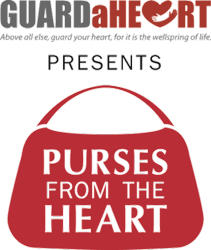 Cause;ology helps foster lasting relationships between sponsors in for-profit industries with charitable organizations
Los Angeles, CA (PRWEB) May 22, 2012
The Guard A Heart organization is receiving tremendous help from Cause;ology for its upcoming celebrity-filled event slated for May 24. Guard A Heart, a non-profit organization, will be presenting its "Purses From The Heart" red carpet charity event and auction that will be held at the upscale SLS Hotel in Beverly Hills.
Guard A Heart is holding the event to draw awareness to heart disease and prevention, a disease that is among one of the most fatal for women in America. The "Purses From The Heart" event will generate proceeds from its auction where new and gently-used designer handbags will be sold to the highest bidders. The purses auctioned will be high-end handbags from world famous designers such as Chanel, Dolce & Gabbana, Fendi, Gucci, Louis Vuitton, Marc Jacobs and more. With purses being donated from celebrities and socialites, every purse sold is a life saved with all of the proceeds from the auction benefitting heart disease research and prevention.
Cause;ology, founded by Katie Berry, is an innovative company that assists non-profit organizations, such as Guard A Heart, in acquiring sponsors and partners who can fund special events on behalf of the charities. Cause;ology's sole mission is to help non-profit organizations arrange various charity events in which proceeds can go directly to the cause. Cause;ology maintains its motto for each event, which is "A cause, An effect, An action, An event." Through this forward-thinking process, Cause;ology helps foster lasting relationships between sponsors in for-profit industries with charitable organizations, allowing those entities to give back to their communities and the world at large.
The "Purses From The Heart" event will include a three-hour open bar sponsored by Blue Ice Vodka and Alize, gourmet appetizers by Salt Creek Grille Catering and swoon-worthy desserts hosted by Sugar, Sugar! Candy Buffet.
The event is also expected to attract its share of celebrities supporting Guard A Heart's cause. The red carpet arrival kicking off the event will begin at 7:30 pm.
For more information about Cause;ology, as well as its partners, sponsors and events, visit http://www.causeology.org. For more information about the Guard A Heart organization, visit http://www.guardaheart.org.
For Media Inquiries, and Interviews please contact:
Yvette Morales
YM & Associates
PR | Marketing | Branding
California | New York
949.244.9769 | 310.499.0906 Fax
YMoralesY(at)YM-PR(dot)com
dot com