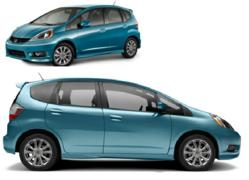 The Fit makes driving fun and effortless.
Tucson, Arizona (PRWEB) May 17, 2012
The Honda Fit presents an undeniable balance of fuel-economy, sportiness, interior convenience and comfort.
The new Honda Fit has an updated grille and front bumper that compliments the slick rear roofline spoiler and the aerodynamic wedge-shaped front end. The headlights are sharp and balance the grille perfectly. The five-door layout is striking and provides character. Overall the Fit's appearance creates a presence and is eye-catching.
Under the hood the 117-hp, 1.5-liter, 16-valve, j-VTEC 4-cylinder engine allows the car to accelerate quickly and features the i-VTEC technology that boosts speed and torque. The suspension system allows the car to handle extremely well and has a quick performance-based response. The steering wheel has mounted paddle shifters and controls for quick and convenient gear changes to the automatic transmission. Fuel mileage is rated at 27/33 mpg City/Highway, or 28/35 mpg for the 5-speed automatic. The Fit is easy and fun to drive.
The interior of the Fit is a stand-out with its unique and innovative features. The car has four seat-configuration modes: utility mode, people mode, long mode, and tall mode. Utility mode provides for 57.3 cubic feet of room for cargo, and the low lift-over height of the hatch allows items to be loaded with ease. People mode is the most commonly used mode and allows seating for five people and 20.6 cubic feet of storage space. Long mode is designed to transport linear items up to 7' 9" long. Finally, tall mode is designed for items that are required to stand upright. There is also a seat Honda calls the Magic Seat that can be folded up to reveal a hidden storage compartment where valuables or small items can be stowed.
"The Honda Fits seat configurations make life simpler regardless of what your needs are. We've had many Honda Fit Arizona drivers tell us how easy it is to transport, store, or move cargo around," says Neb Yonas, General Manager of Chapman Honda Tucson.
The instrument panel has a MID (Multi-Information Display) that features a Maintenance Minder system, a digital odometer, trip meter, and instant or average fuel economy data. The MID works in correlation with the Honda Satellite-Linked Navigation System, which responds to voice commands and gives you on-screen and voice guidance. The Fit also has a USB audio interface that is located in the glove compartment that connects directly to any iPod or MP3 player. In the Fit Sport model the steering-wheel has mounted controls for even more convenience, as well as a standard 160-watt 6-speaker audio system.
Featuring everything from multiple seat configurations to a state-of-the-art sound system, the Fit makes driving fun and effortless. For more information on the Honda Fit, check out your Arizona Honda dealer.