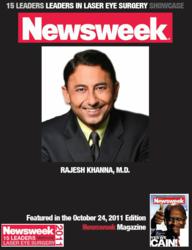 Getting an eye exam is an important part of staying healthy and maintaining quality of life.
Los Angeles,Ca (PRWEB) May 18, 2012
Many Americans are not aware but this week, May 14th thru the 18th is annual eye-smart week. The American Academy of Ophthalmology urges people to get eye exams and make sure that they do not have signs of disease or vision aliments. Getting an eye exam is an important part of staying healthy and maintaining quality of life. As one begins to age, vision can become drastically impaired and may result in loss of vision if they do not visit an ophthalmologist. This is why it is recommended that at age 40 patients see an ophthalmologist for a baseline exam. This examination will identify any abnormalities, signs of disease, and will help to maintain quality vision as one continues to age.
Individuals that have a family or medical history of eye disease or disorders such as diabetes, high blood pressure, or additional medical conditions should see an ophthalmologist more regularly throughout their lives and should not wait until age forty. By age 65 individuals begin to experience major changes in vision and the development of cataracts, macular degeneration, and glaucoma are not uncommon.
It is important to visit a skilled M.D. on a regular basis so that they can identify these diseases and recommend treatment or surgical procedures while in the early stages of the diagnosis. A full eye exam should take a least an hour. Before the exam the ophthalmologist should ask a variety of questions in order to determine your medical history including; current eyewear (glasses, contacts, or both) the ophthalmologist may even request medical records from previous eye exam in order to understand your medical history and execute a through exam. During the exam the doctor will evaluate the patient's eyes by conducting a variety of tests including; standard reading test, dilatation, ocular motility as well as a variety of other tests. Additional tests to identity diseases include tonometry, which will identify glaucoma, slit lamp, which will identify cataracts, or topography which will identify abnormalities or diseases in their early stages.
Dr. Rajesh Khanna has been an ophthalmologist for over twenty years and supports Eye-Smart week and its efforts to help Americans seek medical attention and maintain quality vision. He firmly believes in conducting through eye exams and giving the best possible patient care. Dr. Rajesh Khanna is an internationally recognized LASIK and refractive vision care specialist. He graduated among the top of his class in medical school and is a member of the UCLA faculty. Utilizing his skills to instruct a new generation of eye surgeons on the safest and most effective techniques and procedures, he pioneered many of today's techniques in LASIK and refractive surgery. Khanna invented a variety of instruments to aid in surgeries and speaks at a myriad of national and international professional venues each year. He participates in refractive surgery conferences and wet labs worldwide. Featured extensively in print and broadcast media, he's received prestigious awards and honors from the World Health Organization. He's a member of the American Medical Association, the prestigious American Academy of Ophthalmology and the American Society of Cataract and Refractive Surgery, and certified by the American Board of Ophthalmology.