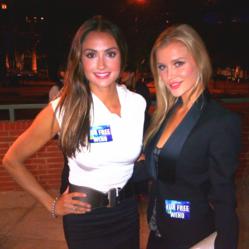 I'm so excited to finally be launching my own organization to help protect and preserve animals all around the world. This is my life long passion.
Los Angeles, CA (PRWEB) May 18, 2012
The non-profit organization, Peace 4 Animals, founded by Actress/Model, devoted animal lover and activist, Katie Cleary, announces the launch of their new website, http://www.peace4animals.com. The website is part of the organization's ongoing efforts to enhance the quality and availability of information to animal lovers, activists and supporters of the fur free movement worldwide and went live on May 14, 2012.
The website boasts a modern, colorful design and is divided into six main sections: Latest News, Rescue of the Week, Shop 4 Peace, Events 4 Peace, Media and About Us. The website's user-friendly nature will provide users with efficient access to the organization's resources. The launch of the new website, which offers quick and easy access to essential information on the protection of animals and endangered species worldwide, will also provide updates on the fur free movement and up-to-date information on the Peace 4 Animals mission.
The Rescue of the Week section will be of particular interest to animal lovers in Los Angeles. Every week, the website will feature a new animal that is in desperate need of rescue from a rescue shelter in Los Angeles. In this section, viewers will be able to find out about different pets that are in need adopting in the Los Angeles area and will also be able to learn about fostering rescued animals until a forever home can be located for the rescued pet. The website will also serve as a centralized database for all of the local Los Angeles animal shelters/pounds.
Stay tuned! This fall, the Peace 4 Animals website will also feature an online boutique called Shop 4 Peace where animal advocates will be able to purchase fashion forward apparel. All proceeds from the sales will go to protecting selected endangered species. "I'm so excited to finally be launching my own organization to help protect and preserve animals all around the world," said Cleary, "This is my life long passion."
Cleary has already attained mentionable success in the world of animal protection. Cleary helped to pass legislation to ban the sale of fur in West Hollywood, CA. Cleary pioneered the "Diamonds Not Fur" campaign that encouraged people to wear cruelty-free diamonds instead of fur of any kind. Cleary is a champion of the fur free movement and is working hard to see the sale of fur banned from high end boutiques, major designer fashion collections, and to end the promotion of fur being worn by celebrities in the public eye.
On April 2, 2012, Peace 4 Animals spokesperson Katie Cleary and Cleary's supermodel friend Joanna Krupa along with help from the social activism site Care 2, presented a petition to the Kardahsian sisters, the reality TV-stars and owners of the Dash clothing line. The petition requested that the Kardashian sisters stop selling fur products in their retail stores and on-line. As a direct result of the petition, signed by more than 140,000 concerned people, the Kardashian sisters announced in April 2012 that they would stop the sale of fur at all Dash boutiques and in their clothing line.
About Peace 4 Animals
The vision of Peace 4 Animals is to have a world that lives in peace with all animals around the globe and to one day eliminate the endangered species list and restore the endangered population from only a few decades ago which have been depleted from corporate greed, deforestation, poachers, the fur trade and many other factors - all of which are human related. Peace 4 Animals' goal is to increase awareness and educating the public to put an end to the mistreatment and abuse of animals all around the world. Peace 4 Animals helps to pass bills and raises money to nurture wild, domestic and endangered species from poachers, corporations, and the illegal Black Market Trade of animals
About Katie Cleary
Katie Cleary is a known animal rights activist, supermodel and actress. Katie is perhaps best known for her involvement in banning the sale of fur in West Hollywood and her appearances on NBC's Deal or No Deal. She has also made numerous television and film appearances including NBC's Chuck. Iron Man 2, CMT's Working Class, America's Next Top Model and more. Cleary has raised tens of thousands of dollars for organizations such as HSUS, Much Love Animal Rescue, SPCALA, Wildlife Way Station, and more.