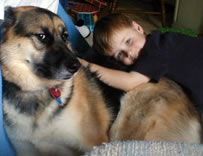 Parents can increase safety and fun between children and dogs with dog communication education!
Cary, NC (PRWEB) May 18, 2012
Family Paws Parent Education (FPPE) offers new and expecting families information about dog behavior and communication BEFORE there is a concern or problem. One way FPPE is reaching families is through webinars like "The Inclusion of Family Dogs for Success: Building Dog-Child Bonds" being offered for free for dog bite prevention week.
The challenge of dog bite prevention education is reaching families that believe that their dog would never bite their child. Their dog is a "good" dog and "good" dogs don't bite…right? Not necessarily. "Good" dogs "communicate" like dogs. They are masters at using many parts of their bodies for subtle communication. Communication that is present, but often missed in a household busy with a baby or toddler.
Babies and toddlers do not come with a parent guide or manual, but when they are stressed, tired or fearful they do communicate in ways that parents can naturally understand. Dogs can't ask for space or use words to communicate fear, anxiety, stress or pain but dogs do communicate using their body language. Many people are not familiar with and do not naturally understand this type of canine communication. These important topics are covered in the FPPE programs and online webinars. Most bites are a result of a combination of incorrect expectations and lack of awareness about the many subtle signals dogs do offer to indicate stress, conflict, discomfort or a need for space.
Parents are encouraged to be open to learning about their dog's communication. The more education parents receive about the body language of canine communication, the easier it will be for them to keep both their dogs and their children safe and happy.
These differences between dog communication and human communication are a main cause of conflict and stress in homes where dogs and newly mobile babies live together. Through Family Paws Parent Education classes in communities and webinars online, FPPE is making a difference in the lives of families and dogs worldwide!
The creator of the programs, certified dog behavior consultant Jennifer Shryock, has been involved with dogs since a very young age. She has a Bachelors Degree in Special Education and is the mother of four children. Shryock is also the U.S. VP for Doggone Safe a non-profit dedicated to dog bite prevention and victim support. Along with her private dog behavior consulting business, Family Paws, the Shryock family has fostered over 70 dogs and many cats over the years providing ample hands-on learning opportunities. It was through fostering and becoming active in dog rescue that Jennifer saw the need for dog education specific to new and expecting families.
Frequently dogs are abandoned or re-homed due to lack of knowledge of available resources and support. Education and preparation make all the difference in the world when it comes to safe interactions between babies and dogs. Dogs & Storks® and The Dog and Baby Connection™ provides consistent and current information through qualified, licensed presenters. By addressing concerns or behavioral challenges up front, families can set proper expectations and practice new routines both well before and after baby arrives. Providing this resource is what motivated Jennifer Shryock to create the programs Dogs & Storks® and The Dog and Baby Connection™ "I want to make education available even before they know they need it!" FPPE offers ongoing support for new and expecting families with dogs! Jennifer believes by offering Dogs & Storks® and The Dog and Baby Connection™, this type of education will become as common as other parenting and childbirth classes. That is tail wagging news for dogs everywhere!