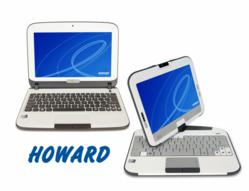 Even though they were originally created for students, the ruggedized cases, software enhancements, and performance upgrades of our newest models make them ideal for just about anyone.
Ellisville, MS (PRWEB) May 22, 2012
Howard Technology Solutions, a leading manufacturer and reseller of computer hardware and related equipment, based in Ellisville, MS, just launched their newest Intel-powered Classmate PCs—the 2go PCX3 notebook and 2go PCT3 convertible tablet.
Based on Intel's Learning Series, these new student-centered notebooks from Howard include education-oriented applications that are designed to help students achieve more. Both Microsoft® Certified systems come with Windows® 7 and offer full PC functionality. Powered by Intel® Atom™ processors that are faster than ever, the 2go PCX3 and PCT3 deliver increased levels of computing power and performance. According to Howard engineer, John Gerlach, "The new Atom processors are not only faster than their predecessors, but they are 60 percent smaller and consume 20 percent less power, making 2go PCs even more energy-efficient.
Other features include Intel® HD Graphics, DDR3, and integrated WiFi; 10.1-inch LCDs with touch-screen capability, 2MP webcams, and rechargeable batteries with up to 10-hours of battery life. Their semi-rugged construction includes no-slip, easy-to-grab handles, scratch resistant surfaces, and shock-mounted hard drives for protection against the drops and bumps incidental to active student life. The 2go PCX3 and PCT3 are the latest in a series of affordable e-learning solutions from Howard, especially designed to help students develop the 21st Century skills so critical for success in today's world.
David Perkins, Howard's Vice President of Education Sales, offered this insight as to the success of Classmate PCs by saying "Even though they were originally created for the education market, the ruggedized cases, software enhancements, and performance upgrades of our newest models make them ideal even for business professionals. In fact, they're great for anyone on the go."
About Howard Technology Solutions
Howard Technology Solutions, known for its cost-effective approach to providing the very latest in reliable, high-quality equipment, manufactures custom desktops, notebooks, servers, and presentation carts that continue to secure market recognition. Founded in 1998, it is a division of Howard Industries, a billion-dollar, privately held company headquartered in Ellisville, Mississippi. With a 100% US-based workforce and rich portfolio of over 250,000 products, Howard has been satisfying business, educational, governmental and medical customers for over 12 years. Visit http://www.Howard.com and get tomorrow's technology—today!