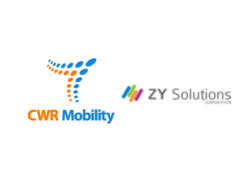 "We chose CWR Mobility because our users need reliable, functional, easy-to-use tools to access and manage CRM information from anywhere, on any device," said David Fretwell, ZY Solutions CEO.
Nijmegen, Netherlands and Lake Zurich, IL (PRWEB) May 22, 2012
CWR Mobility, the leading provider of mobility solutions for Microsoft Dynamics® CRM, and ZY Solutions Corporation, an innovative IT and multimedia consulting company, announced today that they have formed a new partnership. As a registered partner, ZY Solutions will offer CWR Mobility's award-winning software to provide advanced mobile CRM solutions to its customers.
A Top VAR and Silver Midmarket Solution provider with a division dedicated to CRM and other business process services, ZY Solutions offers customers in any industry the support, experience and guidance to maximize their Microsoft Dynamics CRM investment.
"We chose CWR Mobility because our users need reliable, functional, easy-to-use tools to access and manage CRM information from anywhere, on any device," said David Fretwell, ZY Solutions CEO. "Their mobile solutions are multi-platform, enabling users to access CRM data on any device through a familiar interface. Partnering with the leading provider of mobile solutions for Dynamics CRM will allow us to extend the reach and utility of CRM for our customers while we help their employees become even more productive."
CWR Mobility develops and markets CWR Mobile CRM, the best-in-class mobility solution for Microsoft Dynamics CRM that enables field sales, service and marketing professionals to be more effective and efficient. CWR Mobile CRM 2011 offers innovative features such as mobile dashboards, a data visualization tool that enables field professionals to easily track the business data and intelligence that matters to them most, so remote workers can act on that information when it matters most. CWR Mobile CRM 2011 easily and seamlessly integrates with customers' Dynamics CRM 2011 systems.
"Helping companies find a mobile CRM solution that enables them to get closer to their customers is a goal we share with ZY Solutions," said Mark H. Corley, CEO of CWR Mobility, the global 2011 and 2010 Microsoft Partner of the Year for Mobility Business-to-Business Applications. "We look forward to working with ZY Solutions as we assist their clients in achieving new efficiencies and productivity in their business."
Businesses and Partners interested in learning more or beginning a free 30-day cloud or on-premise trial are invited to visit http://www.cwrmobility.com
About CWR Mobility
Our mission at CWR Mobility is to help organizations gain The Power of Close™ – the power to get closer to customers and stay there, increase customer satisfaction and loyalty while reducing the costs of customer interaction, and create a more agile and effective customer-facing organization. By offering the most advanced, multi-platform mobile CRM solutions – based on the Microsoft Dynamics CRM platform – CWR Mobility continues to set the mobility standard for the entire CRM industry. CWR Mobility and its partners uniquely empower customers to drive business results through rapidly deployed mobile applications.
About the CWR Mobility Partner Program
The Mobile CRM market is expanding rapidly, creating substantial opportunity for system integrators, value added resellers and consultants who help their customers gain The Power of Close. The CWR Mobility Partner Program provides these companies with the critical elements essential to successfully enter the mobile CRM market and deliver market-leading solutions to their customers based on best-in-class software products from CWR Mobility. For more information, or to inquire about partnership opportunities, visit http://www.cwrmobility.com/partners/become-a-mobile-crm-partner.
About ZY Solutions
ZY Solutions is an information technology and multimedia consulting company that specializes in innovative solutions that allow businesses to quickly gain insight into operations, automate processes, build relationships, generate growth, and develop new capabilities. By offering professional interactive media services, paired with best-in-class technical expertise and support, we can deliver focused strategic solutions from design to execution. ZY Solutions is based in the United States with offices in Illinois and Florida. For more information, please visit http://www.zysolutions.com.
The Power of Close is a registered trademark of CWR Mobility BV. Microsoft and Microsoft Dynamics are either registered trademarks or trademarks of Microsoft Corporation in the United States and/or other countries. The ZY Solutions logo is a trademark of ZY Solutions Corporation. Other trademarks mentioned in this press release may be held by their respective owners and/or their suppliers.