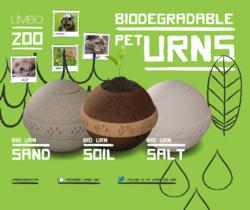 Allow your pet to connect with Nature and discover a life after life.
(PRWEB) May 18, 2012
The Geos Zoo urn, is made of soil, minerals and vegetal agglutinants that hold it together. This urn is intended to be buried and there is the option of removing the lid and planting a tree from the region, this way the fertile ashes along with the nutrients in the Geos Zoo urn will help the tree grow strong and healthy. Now everyone can bury their beloved pet in their backyard or their favorite park and watch the tree grow as a perfect memorial.
There is also the Nu urn made out of salt, intended to be disposed in the ocean where it will dissolve in less than 5 minutes reintegrating with nature.
The third model is the Samsara urn, made out of sand intended to be disposed in fresh waters like lakes, rivers, etc.
Limbo Zoo has wholesale prices for pet stores and veterinarians.