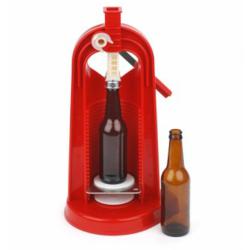 Independence, Missouri (PRWEB) May 21, 2012
E.C. Kraus, the leading supplier in home wine making kits and beer brewing kits, recently announced they will begin to carry a new line of wine making juices from Cellar Craft, beginning in June. The Missouri-­‐ based organization has been an authority in the home beer and wine making industry for over 40 years, and continually focuses it's efforts to offer expansive product lines to meet the growing needs of their target audience.
Kraus continually looks forward to surprising customers with new wine making possibilities, and anticipates the partnership with Cellar Craft to be a successful venture. The juices will add to the current flavor profiles available through Kraus's current e-­‐commerce site.
Cellar Craft offers distinctive wine making juices, developed from a variety of international grape stocks from regions ranging from North America and South America to Europe. This unique combination of grape stocks creates an exceptional global flavoring that will provide Kraus customers with countless new blend possibilities.
Currently, Kraus boasts a wide selection of wine juices from leading manufacturers. Wine juices are an integral part of the wine making process, and determine the taste and quality outcome of the wine. Kraus's current wine juice selection provides customers with options ranging from popular Pinot Grigio to rarer and more distinctive flavors such as Gewurztaminer and Shiraz.
Kraus places a strong focus on innovation and maintaining status as a complete home wine and beer supplier. Kraus recently added new kegging systems, and the introduction of new wine juice kits continues to be a step towards future expansion.
About E.C. Kraus:
Since 1966 E.C. Kraus has been providing its customers with superior supplies and practical products for making wine and beer brewing at home. Some have remained loyal for over 40 years, others are just getting started.
With a selection of products hard to find anywhere else, E.C. Kraus continues to search for new product opportunities. Not just products that are unique, but functional, practical, and of a quality that is beyond expectation. E.C. Kraus also provides supplies for making liquor and soda pop from home.
###