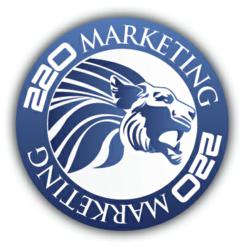 "I have tried other company's landing pages before and the ones developed for me by 220 have produced the best results for me by far. My advice for others trying to get started with this is to KEEP IT SIMPLE...."
San Diego, CA (PRWEB) May 19, 2012
Everyone knows there is business to gain by effectively using the internet. The problem is that only a few people actually know how to do it. For over five years 220 Marketing has been teaching service professionals how to grow their businesses by generating exclusive leads online. The release of 220's new Landing Page technology is helping take their clients' growth capabilities to the next level.
"We are very excited to be able to offer our clients 220's exclusive landing page technology. By showing them how to use landing or splash pages to target specific niches, our clients can often double or even triple their current conversion rate of visitors into exclusive leads," stated Trevor Niarchos CEO & Co-Founder. Mr. Niarchos continues by stating, "landing page technology is an inexpensive way to make a big impact in your return on investment. These simple two to four page lead capture websites enable our clients to go after specific niches and dominate the competition. Especially if they are utilizing any type of Pay-Per- Click or target marketing. The more closely related the page that you are driving traffic to relates to the wants or needs of the target audience, the more likely it is that you will convert those visitors into leads. Even a 5% increase in conversion can lead to enormous gains over the course or a year."
220 Marketing has already been conducting a soft launch of their Landing Page Technology with some of their clients doing a lot of Pay-Per-Click advertising. Shane Backer, a 220 client who specializes in the Jumbo Loan Market in New York and Connecticut, has already been experiencing a significant improvement in his lead conversion by driving traffic to landing pages custom designed for him by 220. Mr. Backer explains, "I have tried other company's landing pages before and the ones developed for me by 220 have produced the best results for me by far. My advice for others trying to get started with this is to KEEP IT SIMPLE. It's all about staying relevant for each keyword and focusing on conversions. The model that 220 built makes this very easy to do. Not only can they get a landing page created for me in about a day, they also offer creative advice on how to drive quality traffic to the site through PPC advertising."