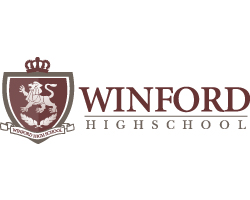 Orlando, FL (PRWEB) May 23, 2012
WinFord High School, one of the world's fastest growing online high schools, is pleased to announce that it has been accepted for Institutional membership by the coveted International Association for K-12 Online Learning (iNACOL).
iNACOL's representative, Judy Hook, informed WinFord High School about the acceptance, "It is with great pleasure that we welcome Winford High School as an Institutional Member of the International Association for K-12 Online Learning (iNACOL)."
Winford High School provides high quality education that promotes lifelong learning, enabling students to pursue a University degree or grow as successful professionals in their respective fields. The highly regarded iNACOL's membership is a testimony of Winford's commitment to awarding quality high school diplomas to students, while allowing them to study at their own convenience without compromising on their personal or professional commitments.
iNACOL is a non-profit organization that assists collaboration, advocacy, and research to boost quality K-12 online teaching and learning. iNACOL facilitates access to high-quality online learning that prepares students for a bright future. Its mission is to ensure all students have access to a world-class education and quality online learning opportunities that prepare them for a lifetime of success. In October 2008, NACOL expanded its reach globally and became the International Association for K-12 Online Learning (iNACOL).
"It is an honor for WinFord High School to be granted the institutional membership. It will help take our educational standards to new heights," said Russell Hantz, Dean at WinFord High School. He further added, "This association will allow us to grow as an educator and enhance our services as an effective online education provider."
The news has been well received by WinFord High School students and alumni alike. Frank Schaps, current student at WinFord High School, says: "It is good news for everyone, and it's obviously going to raise the standards for online high school diploma provided by the School." Jake Anderson, a Winford alumnus said "It makes me really glad to know Winford acquired the iNACOL membership, I'm proud of my association with Winford."
About WinFord High School
WinFord High School offers a highly flexible and convenient online high school diploma program, allowing you to pursue an affordable, self-paced education without sacrificing your personal and professional commitments. Our industry expert academic scholars are fully dedicated to make learning a profound experience for each student by designing relevant and comprehensive curriculum that prepares them to face the challenges of the real world. In addition, The School offers wide a range of exclusive services, including financial support, career counseling services, Embassy legalization and free shipment of your high school diploma.