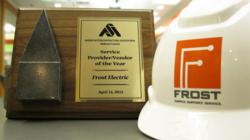 Frost understands both the importance of providing quality tool supply for St. Louis contractors, and innovative solutions and service.
Saint Louis, MO (PRWEB) May 18, 2012
Frost Electric Supply St. Louis was recently awarded the prestigious award of Vendor of the Year by the American Subcontractors Association (ASA) Midwest Council at their 19th Annual Awards Gala, held at the Four Seasons in Downtown St. Louis. Comprised of specialty contractors and suppliers serving both construction industry and the community, the ASA aims to improve construction processes via education, legislation and cooperation across the greater metro area of St. Louis as well as parts of southern Illinois.
The Vendor of the Year was awarded to Frost based on performance in a variety of quality assurance and customer service areas, including the delivery of fair pricing that is consistent in its application, mutually fair and equitable purchase orders, easy accessibility in and off peak hours for clients, timeliness of scheduled deliveries on a consistent basis, strong administrative procedures for fulfillment of orders, and most importantly, their commitment to strong customer relations.
Frost Electric Supply has been in operation for over 100 years. Originally specializing in manufacturing the wire and batteries that appeared in wall phones, Frost now prides itself in providing fastening, lighting, building maintenance and electrical supplies to St. Louis and beyond for a variety of construction, property management and industrial contract work.
They have continued to build a reputation as one of the premier electrical distributors in St. Louis providing clients with tools, electrical supplies, fasteners and more for a variety of construction projects. In addition to commercial electric, Frost has branched out to provide St. Louis with tool supplies needed to finalize concrete and plumbing projects.
While maintaining a full stock of high quality hand and power tools, safety equipment and fasteners in their St. Louis and Illinois locations, Frost also sees the powerful potential solar energy affords and is the largest distributor of Green Choice products. Frost not only sells supplies but also assists businesses operate in compliance with the latest energy regulations.
Frost provides electrical supplies throughout St. Louis to some of the largest global and state companies, including Boeing and Ameren, as well as smaller and mid-sized businesses and electrical contractors.
Buildings constructed using supplies from Frost include:

the original and the new Busch Stadium
the St. Louis Arena
the Metropolitan Building
Union Station
Frost understands both the importance of providing quality tool supply for St. Louis contractors, and innovative solutions and service. In addition to offering services such as tool rental and repair, Frost features product demos and training in their Bosch Tools Center at their downtown St. Louis location, and is an exclusive supplier of Southwire SIMpull wire solutions and the all new Frost POWEReel to enhance job-site mobility.
Now in its third generation, Frost continues to deliver a unique combination of products, services and expertise to the bi-state region. The Frost family guides the distribution company, with a focus on the electrical supply, industrial automation, tools, safety and voice/data industries. Frost's knowledgeable staff serves customers from its headquarters in Maryland Heights, MO and its five full service retail locations in the city of St. Louis metropolitan area, including O'Fallon, MO, Columbia, MO, as well as Collinsville, IL and Lebanon, IL.
For more information about Frost please contact Nick Arb by calling 314-743-0207 or visit http://www.frostelectric.com.
Frost. Providing unmatched supply, support and service to their customers for over 100 years.