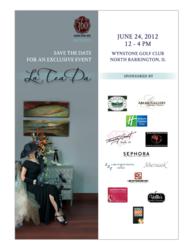 Exciting raffles! Swag bags valued at $250.
Barrington, Illinois (PRWEB) May 17, 2012
Abernook Online Gift retailer sponsors La Tea Da, an exclusive fashion event at Wynstone Golf Club in North Barrington, IL.
The event is being presented by Couture 360 of Lake Zurich. The event being held on Sunday, June 24th will focus on wedding and special occasion wear. Abernook features gifts for special occasions and celebrations and feels as though it is a perfect venue to highlight their gift selections. Abernook's selection of personalized gifts and keepsake jewelry along with the wide range of bridal party gift ideas compliment the theme of the afternoon.
This exclusive event will feature two fashion designers: Barbara Bates (from NBC's "Fashion Star") and Timothy Westbrook (Artist-in-Residence at The Pfister Hotel). "We're creating an event that's truly exciting and that will make you feel good about yourself," said Rose DePaola, owner of Couture 360.
Barbara Bates, of Barbara Bates Designs, will be providing the fashions for the afternoon. Barbara Bates was recently seen on NBC's new reality show Fashion Star ®. Barbara is from Chicago and has dressed some of the worlds' most fabulous fashinistas including Michael Jordan, Oprah Winfrey, Whitney Houston and more.
Timothy Westbrook, The Pfister's Artist in Residence 2012 will also be part of the event. Timothy is an emerging fiber artist from New York and will be displaying some of his pieces. He implements his sustainable studio practices by using re-purposed materials for his work along with low-impact equipment. He focuses on costume, performance and installation art. Artists in Residence are selected through a juried panel processed based on impressive skill, personality and a unique point of view. The Pfister Hotel, Milwaukee, Wisconsin, is known for its Victorian art collection and known as one of the largest hotels in the world of its kind. The Pfister's Artist in Residence program, now in its third year, is a member of the International Alliance of Artists Communities.
The event benefits Emmaus House of Hospitality provides resources such as shelter, food and clothing to families and individuals in need, helping them move from crisis to stability. Guests will receive swag bags VALUED at over $250.00. There are limited seats available and tickets can be purchased online. To purchase tickets or obtain more information on the event, visit http://lateada.couture360.com/.
A variety of other business sponsors have taken part in creating this high fashion event and offer services that help celebrate life's special occasions and celebrations. Taking part in the event other than Abernook are , Ablan Galleries, Holiday Inn Express Lake Zurich, Lake Zurich Travel, Lake Zurich Florist, Timothy Grant Jewelry, Ltd, Relevation Productions, Sephora, and CDU.Com.
Abernook Gifts specializes in personalized and keepsake gift ideas for milestone birthdays, holidays and special celebrations including weddings, retirements and religious events.