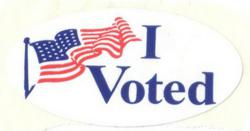 "I want to encourage groups that tend to have voter apathy, such as young people or those that think that their one vote somehow doesn't count, to rethink their philosophy."
Austin, TX (PRWEB) May 18, 2012
With early voting in Travis County underway, turnout for both Republican and Democratic primaries has been strong, highlighting a sense of civic duty that Austinites are proud of.
Tax Assessor candidate Vik Vad has spent the last few months meeting with people and organizations that stretch the entire political spectrum. "Our message of cutting out government waste, and running the Tax Office efficiently, appeals to the public at large regardless of their political affiliation," states Vad. "It's hard to argue against streamlining operations when it comes to voter registration and motor vehicle titling and registration, two additional duties of the Tax Assessor's office."
In Texas, voters must choose to vote in either the Democratic or Republican Primary, but cannot vote in both. "I've told my supporters that if they choose to vote in the Republican primary, then I respectfully ask for their vote. And for my Democratic supporters, I ask them to vote in the Democratic primary," says Vad via his Facebook page. "The point here is to go and vote, and to make your voice heard, regardless of party affiliation."
Vik Vad wants to address the issue of low voter turnout in some elections. As Voter Registrar, a function of the Tax Assessor's office, he plans to do this. "I want to encourage groups that tend to have voter apathy, such as young people or those that think that their one vote somehow doesn't count, to rethink their philosophy," says Vad. "I also plan on aiding our men and women in uniform overseas to mail in their ballots early. The least we can do for those that serve our country every day is make it easier for them to vote."
Independent voters can sometimes feel frustration during a primary election, since their preferred choices may include people from both political parties. They must still make a choice to vote in one primary or the other. "Independent voters are great, as they vote the candidate, and not the party," Vad explains. "Many are tired of partisan politics, and are ready for candidates that address the issues and are effective in what they do. It's these things that are really important in the end."
The Vik Vad for Texas campaign has reached out to Republican clubs, center-left organizations, individual voters, and even the Libertarian Party. "Travis County is incredibly diverse which is what makes it such a great place to live. Our county's elected representatives need to reach out to everyone," emphasizes Vad.