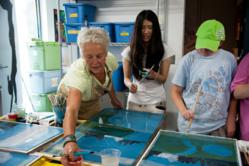 There are so many stories behind the artistic traditions practiced by these individuals.
Baltimore, MD (PRWEB) May 18, 2012
Maryland Traditions, a program of the Maryland State Arts Council (MSAC), has announced that more than 30 master artists and their apprentices will lead free workshops, demonstrations or both at the 2nd Annual Maryland Traditions Folklife Festival. The Festival, an interactive, family-friendly celebration of traditional music, arts and foods from across the state is from 11:00 a.m. – 7:00 p.m., June 16 at the Creative Alliance at the Patterson—rain or shine.
"There are so many stories behind the artistic traditions practiced by these individuals. Their everyday work and arts are an important and fascinating part of Maryland's ever-changing cultural heritage," said Clifford Murphy, Ph.D., Director of Maryland Traditions, "We want people who come to the Festival to connect with and learn from the traditional artists of our state."
In addition to traditional arts masters and their apprentices demonstrating for and teaching Festivalgoers, the Festival features two music stages with Maryland musicians performing a broad range of musical genres that include Himalayan music, South African and Mexican dance, Bluegrass, Irish and Gospel music, a salsa orchestra and more. Maryland-made arts and crafts, plus an array of distinctive Maryland food favorites will also be available for purchase.
WORKSHOPS AT THE 2ND ANNUAL MARYLAND TRADITIONS FOLKLIFE FESTIVAL:
All children must be accompanied by adults
ARTE DE ESTAMBRE (Mexican Yarn Art) with Francisco Loza, a self-taught artist who originally hails from Guadalajara, Mexico. He is an artist-in-residence at Creative Alliance in Baltimore and creates "Arte de Estambre" (Yarn Art) by working on a wood surface using a combination of waxes as an adhesive base on which he intricately weaves together thread by thread yarns of brilliant colors. Francisco learned his technique by working for over 15 years with indigenous Huichol artisans who live in the Sierra Madre mountains of Nayarit and Jalisco in central Mexico. This workshop is for children ages eight and older. STUDIO #7, 1:00-5:00 PM.
CHINESE BRUSH PAINTING with Mei Yu Green of Anne Arundel County. This workshop teaches children and adults of all ages traditional Chinese brush painting, a tradition that spans several centuries. As opposed to oil painting, it involves the use of brushes dipped in ink and is similar in method to Chinese calligraphy. Workshop participants will learn the techniques of holding the brush and painting basic shapes found in nature, such as bamboo leaves and branches, on rice paper. Two 30-minute sessions will be featured back to back. CLASSROOM: 4:30PM-5:30PM.
DUCK DECOY PAINTING with Rich Smoker and the Ward Museum. This workshop teaches children to paint waterfowl on pre-cut "flatties" (duck-shaped pieces of wood). Master carver and painter Rich Smoker leads this workshop, intended for children age four and older, with assistance from Salisbury's Ward Museum of Wildfowl Art. Classroom can accommodate 15 spaces for adults and children at any given time. CLASSROOM: 3:00-4:00 PM
EGG PAINTING with Halyna Mudryj, master of pysanki, a style of Ukrainian egg decorating through dyeing and painting. Pysanki is a variation of pisanki, which is a Polish style and will also be demonstrated at the Festival. Two thirty-minute workshops have room for 15 adults and children age eight and older. CLASSROOM: 1:00-2:30 PM.
KOLAM PAINTING with Shanti Chandresekar, an Indian Kolam painter from North Potomac, Maryland. Shanthi learned Kolam painting from her grandmother in Tamil Nadu, India. Traditionally, Indian women began their day by drawing Kolams with rice flour – temporary, symbolic paintings – outside their front door as a sign of welcome to guests. This is an all-ages workshop. MEDIA LAB: 4:30-5:30PM.
NATIONAL GEOGRAPHIC PHOTO CAMP with Erika Nortemann & Karine Aigner. National Geographic's Photo Camp will consist of a 30 min introduction to cell phone photography & social media. Participants must have their own camera phone and have or be able to download a Twitter app. Participants will do 1-1.5 hours of field photography throughout festival. MEDIA LAB: NOON-4:00 PM.
WORKSHOPS IN THE DEMONSTRATOR TENT:
LIL' NIPPERS PROGRAM – Hosted by the Annapolis Maritime Museum, children (ages 4-6) will receive a hands-on lesson introducing the Chesapeake Bay Oyster and the life that exists on oyster reefs. Through the use of their senses, students experience the texture of the oyster shells, the smell of the brackish water, see the small critters and learn how oyster reefs are habitats and how they create communities in the Chesapeake Bay. Working waterman John Van Alstine will share his experiences about life working on the water and provide hands-on demonstrations of oyster-tonging. ALL DAY.
PAINTED SCREEN WORKSHOP: The Painted Screen Society will be offering workshops throughout the day. This workshop provides a rare opportunity for participants (ages 8+) to try their hand at creating their own painted window screen—a Baltimore tradition since the early 1900s. Painted screens adorned the windows of row houses of the city for decades, providing much-needed privacy since you can see out through the painted screen, but you cannot see in! ALL DAY.
QUILTING with Mimi Dietrich, a master quilter who specializes in the making of Baltimore Album Quilts. Baltimore Album Quilts were produced in the mid-1800s predominantly by church groups. They comprise distinctive motifs, such as wreaths and flower baskets, which are sewn together using appliqué technique, and traditionally use the colors of red and green. Mimi has produced sixteen books on all kinds of quilting, and has been instrumental in promoting the making of Baltimore Album Quilts both in Maryland and beyond. Workshop participants (ages 4-6) will create Baltimore Album Quilt patterns. 30-45min sessions: 12:30-1:00 PM; 1:30-2:00 PM; 2:30-3:00 PM.
DEMONSTRATORS AT THE 2ND ANNUAL MARYLAND TRADITIONS FOLKLIFE FESTIVAL
AFRICAN DRUM MAKING—Baile McKnight is an institution in Maryland's African drum and dance community. A master drummer and drum-maker, Baile transforms raw materials such as cow and goatskin into djembe, dunun and ashiko drums. Introduced to Caribbean drums through 1960's R&B, he trained in welding and sculpting, and studied with master drummers in Africa. A three-time Maryland Traditions Apprenticeship awardee, Baile maintains lifelong relationships with his students. In 1975, he opened Baile's African Drum Works in Forestville.
ARABBING—a distinctive Baltimore tradition since the mid-19th century, arabbing is the selling of produce, fruit and other items from a horse-drawn wagon. Mostly a male tradition, and more recently, African-American, arabbing is a system of food distribution that links the city's docks along the harbor to street after street of row houses beyond. Donald "Manboy" Savoy, Sr., an elder in the arabbing community of West Baltimore has been arabbing for over half a century and is joined by his son, Donald "Horse" Savoy, Jr., his grandson, James "Boom Boom" Chase and James' wife, Shawnta Chase.
BALTIMORE ALBUM QUILTING—Mimi Dietrich (Catonsville) has been sewing since she was thirteen. When she had her first son, thirty-seven years ago, she entered the world of quilting, producing her first quilt for him. In the 1980s, Mimi went to an exhibition of Baltimore Album Quilts at the Baltimore Museum of Art and fell in love with this uniquely Baltimorean quilting tradition. Baltimore Album Quilts were produced in the mid-19th century predominantly by church groups. They comprise distinctive motifs, such as wreaths and flower baskets, which are sewn together using appliqué technique, and traditionally use the colors of red and green. Mimi has produced numerous books on all kinds of quilting, and has been instrumental in promoting the making of Baltimore Album Quilts both in Maryland and beyond. She will be demonstrating her talents along with her apprentice, Emily Pelton, of Baltimore.
BANJO MAKING—Kevin Enoch and Pete Ross are expert banjo makers. Enoch's late 19th century style open-backed banjos are noted for their meticulous workmanship and distinctive design. The son of a carpenter, Enoch (Prince George's County) was drawn to instrument making because of its need for precision, much like the making of crown moldings in carpentry. He apprenticed as a young man to instrument-makers in his native Ohio where he learned the skill of engraving mother of pearl for decorative inlay. Pete Ross (Baltimore) is a leading maker of colonial-era gourd banjos and learned the intricacies of engraving and inlay from Enoch through a Maryland Traditions Apprenticeship Award in 2009.
BLACKSMITHING—Peter Krug follows his father and grandfather in crafting ornamental iron of the highest quality including gates, chandeliers, railings and staircases. Peter is a 5th generation blacksmith, working in his family's Krug Family Ironworks, which has been a Baltimore City Landmark for almost two hundred years. Over this period, they have hammered out practical and ornamental ironwork that still graces local landmarks as Otterbein Methodist Church, the Basilica of the Assumption, Baltimore's Washington Monument, Zion Church, Johns Hopkins Hospital and the Maryland Zoo in Baltimore.
BOATBUILDING—Dan Cada is the Operating Manager of Ruark Boatworks, a boat building and restoration facility that is part of the Richardson Maritime Museum in Cambridge. Named after Harold Ruark, the designer of the skipjack Nathan of Dorchester, a local boat designer and modeler, boats – large and small – are being built and restored at this facility. The volunteers, assisted by master Boatwright Mac MacGlaughlin, who received a Maryland Traditions Apprenticeship Award in 2009, have completed and constructed locally built boats. Dan will be demonstrating the skills and methods of boat restoration at this year's festival.
CUATRO MAKING—Roberto Rivera is a master Puerto Rican Cuatro maker living in Walkersville (Frederick County). The Cuatro is a ten-stringed lute in the guitar family and is the national instrument of Puerto Rico. While living in New Jersey in the mid-1990s, Roberto apprenticed to Yomi Matos, an internationally respected Cuatro maker and 2006 NEA Heritage Fellow. Since then, Roberto has either built or worked on stringed instruments for some of Puerto Rico's best cuatristas. He is joined today by his son, Julian, who is learning the skills needed for making the cuatro.
DUCK DECOY CARVING—Rich Smoker is a master decoy carver who lives in Dorchester County and grew up on the Susquehanna River in Pennsylvania. He developed an interest in waterfowl at an early age and began carving hunting decoys with his father, R.B. Smoker. He has carved over 3,000 birds since moving to the Eastern Shore in 1982, and has won over 60 best in shows and more than 450 ribbons. In 2008, Rich won the prestigious World Champion Title at the Ward World Wildfowl Carving Competition in the Shootin' Rig Division. In 2011, Maryland Traditions recognized Rich with the ALTA (Achievement in Living Traditions and Arts) Award. Rich will be demonstrating his talents along with his apprentice, Harry Jackson.
INDIAN KOLAM PAINTING—Shanthi Chandresekar is an Indian Kolam painter from North Potomac, Maryland. Shanthi learned Kolam painting from her grandmother in Tamil Nadu, India. Traditionally, Indian women began their day by drawing Kolams with rice flour – temporary, symbolic paintings – outside their front door as a sign of welcome to guests. Similar to Buddhist mandalas, this Tantric art has been passed down through generations for centuries, and symbolizes philosophical patterns in the cosmos. Shanthi and her daughter, Aishwariya, received a 2011 Maryland Traditions Apprenticeship Award, and they maintain this tradition with some innovative twists for Maryland's South Asian community.
LETTERPRESS—THE GLOBE COLLECTION AND PRESS AT MARYLAND INSTITUTE COLLEGE OF ART (MICA) was a family-owned traditional letter press in Baltimore founded in 1929. Known for their lively colors and hand-carved type, Globe grew from producing carnival posters to becoming the premier designer of Rhythm and Blues show posters. Artful and practical, Globe posters were an economical way of advertising, once found on every light pole until the practice was outlawed. Globe received the Maryland Traditions Achievement in Living Traditions and Arts (ALTA) Award in 2010 prior to the company's purchase by MICA in 2011. Bob Cicero, a former owner of Globe, has created posters for James Brown, NASCAR and Parliament Funkadelic and currently teaches the craft of letterpress and poster-making at MICA. Globe has produced the poster and show card for this year's Folklife Festival.
MASTER WOOD GRAINING—Frank Bittner is a master wood grainer living in Dorchester County. Wood graining, or faux finishing, flourished in Baltimore's rowhouse neighborhoods on almost every window, door and vestibule. This vernacular art form transforms simple pine, plywood, or sheet metal, to appear as fancy mahogany or oak. Mr. Bittner's artistry was learned from his Austrian grandfathers, whose work still graces many homes in East Baltimore, Curtis Bay and Locust Point. He was a Maryland Traditions master artist in 2004 and will be working with Steve Sullivan at this year's festival.
MUSKRAT SKINNING AND COOKING—Rhonda Aaron is a master muskrat skinner and cook. Like generations of her Aaron and Flower ancestors, Rhonda lives in and off the Blackwater marshes of South Dorchester County. At the National Outdoor Show, she has won the International World Champion Muskrat Skinning Championship several times, as have her uncle, brother and son. Surrounded by watermen and trappers, she is an award-winning cook and is featured, along with apprentice Trish Hayden, in the documentary film, Mukrat Lovely. During the summer season, when not working at the Dorchester County Library, she helps run the family crab-shedding business.
PISANKI (POLISH EGG DECORATING)—Carla Tomaszewski is a first-generation Polish-American, born and raised in Baltimore, and now residing in St. Mary's County. Carla uses dyes, batik (wax resist), etching, and painting to create dazzling designs on fragile eggshells. This is the art of pisanki, an Eastern European decorative tradition most visible at Easter time. Unlike the highly-detailed geometric patterns of Ukrianian pysanki, Carla's traditional Polish style is free and romantic, relying on floral and natural motifs.
REGALIA MAKING & NATIVE AMERICAN DANCE AND DRUM—Louis Campbell (Baltimore) is a master artist specializing in the making of Lumbee ceremonial regalia used at pow-wows. The Lumbee, a Native American tribe indigenous to North Carolina, migrated to Baltimore, along with the Haliwa-Saponi and other tribes, following the Depression. These groups worked in the city's booming industrial plants and mainly settled in the Fells Point area. Regalia are, in Louis' words, a "suit of armor that you wear when you dance". Campbell's work is influenced by inter-tribal pow-wows, and he uses materials from feathers to eagle claws and buffalo bone.
SCREEN PAINTING—Dee Herget (Essex), Jennifer Crouse (Baltimore), Tom Lipka (Baltimore City), Anna Lipka (Westminster), John Oktavec (Pasadena), Monica Broere (Baltimore City), Painted Screen Society of Baltimore —Nothing compares to Baltimore's Painted Screens anywhere in urban America. The application of painted scenes on wire screens provides privacy indoors and an art gallery for the street. Everyone knows, "You see out, no one sees in." They have endured as a symbol of the neighborliness and resourcefulness of Baltimore's row house residents since 1913. Masters Dee Herget, Tom Lipka and John Oktavec are the last of the painters descended from the generation of the art form's inventor, William Oktavec. Dee learned this unique folk art from the late Ben Richardson who painted during screens' heyday in the 1950s and 60s. As a youngster in the 1940s, Tom imitated the work of an itinerant artist in his Canton neighborhood. Grandson of Willliam Oktavec, John watched his father Richard paint screens in the family's Northeast Baltimore Art Shop. Tom and Dee have been schooling adults and youngsters in regular classes for decades. They were Maryland Traditions masters in 2004. Apprentices Anna Lipka and Monica Broere teach screen painting to kids and adults; Jennifer Crouse has adapted her style for Renaissance fare.
SKIPJACK RESTORATION—Michael Vlahovich (St. Michaels) is a master builder and restorer of wooden boats. His family came to the Pacific Northwest from Croatia about a hundred years ago, and he relocated to Maryland to help restore the Chesapeake Bay's vanishing skipjack fleet. He received the Maryland Traditions Apprenticeship Award in 2006 to teach ship caulking to his son, Anthony. Mike is the founding director of the Coastal Heritage Alliance, dedicated to the preservation and advancement of the cultural heritage of commercial fishing families in North America.
SPAR CARVING—Andy Shaw (St. Mary's City) is the shipwright at historic St Mary's City. Andy grew up on boats along the East Coast. He became involved in wooden boatbuilding as an adult and has become a master spar-carver. A spar is critical to effective sailing – the mast of a ship – and dependability requires well-made spars. Andy mentored apprentice Darwin Weigel (Broome's Island) in all aspects of spar-carving; from picking out the exact piece of wood to mounting the finished piece on the ship.
STONE CARVING—Patrick Plunkett (Takoma Park) is a master stone carver, using only a mallet and chisel, as well as techniques that have lasted over centuries. One of Patrick's most significant projects was working on the architectural carvings of the National Cathedral in Washington, DC, including the well-known Darth Vader Grotesque on its North tower. Patrick will be demonstrating his talents along with Jason Wright, his apprentice during the 2011 Maryland Traditions Apprenticeship Award.
TATTING—Carolyn Groves of Frostburg, brings an updated look to the traditional art form of tatting, which can be traced to the mid-1800s. Tatting, or lace-making, consists of knotting thread with a shuttle, or needle. The two techniques produce slightly different results: needle tatting produces a thicker lace. While traditional tatting pieces include doilies, collars and baby bonnets, Groves crafts intricate decorative pieces, including jewelry and pendants.
About the Maryland State Arts Council
The Maryland State Arts Council, an agency of the Maryland Department of Business & Economic Development, Division of Tourism, Film and the Arts, is dedicated to cultivating a vibrant cultural community where the arts thrive. The mission of the council is to encourage and invest in the advancement of the arts for the people of Maryland. For more information about the Maryland State Arts Council, visit the MSAC web site at http://www.msac.org or call (410) 767-6555 or TTY 1-800-735-2258.
About Maryland Traditions
For more than a decade, Maryland Traditions is a collaborative statewide folklife partnership program of the Maryland State Arts Council with support from the National Endowment for the Arts, designed to create a lasting infrastructure for the documentation, promotion and celebration of traditional culture in Maryland. Maryland Traditions and its partners conduct cultural documentation, produce public programs and publications, and create public resources through archives and grant programs. For information contact Cliff Murphy, 410-767-6450 or cmurphy(at)msac(dot)org.