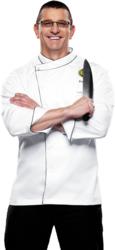 Meet and greet Food Network Star Robert Irvine!
Milan, OH (PRWEB) May 17, 2012
Tickets are now available online for the 10th Annual Veggie U Food and Wine Celebration, at The Culinary Vegetable Institute on July 21st, 2012.
Chef Robert Irvine, star of Food Network's Restaurant: Impossible will appear this year to meet and greet the guests and participate in Demo: Impossible on the Veggie U F&W Celebration demonstration stage! In addition to Robert Irvine, this year's headliners include Chef Amanda Freitag (as seen on Unique Eats, America's Next Iron Chef and Chopped); Chef Johnny Iuzzini (Judge on Bravo's Top Chef Just Desserts, James Beard award winning pastry chef, and author); and Chef Claire Robinson, who combines her passions for food and television on Food Network Challenge and 5 Ingredient Fix. The chef headliners showcase their many talents on the F&W Celebration demonstration stage, where attendees have the opportunity to get a real sense of their personalities, skill and artistry.
Master Sommelier Brett Davis of Vintner Select in Louisville, KY, will hold wine classes with the goal of educating the guests on the nuances of fine wines; and, celebrity MC and auctioneer Billy Harris is back this year to entertain the crowd.
Flavors of the World. Each of the thirty+ guest chefs at the event's tasting stations have chosen a cuisine to transport attendees to their favorite locales or to a region and cuisine style they might not otherwise get to experience. Also new this year is the addition of two gourmet food trucks, a fun trend happening around the country, as top chefs put their award winning restaurant menus "on the road" in city streets, parks and catered events. Chef Rocco Whalen, restaurateur and executive chef at Fahrenheit in Cleveland's Tremont neighborhood, who was also recently showcased on Food Network's Fat Chef series, will bring his "Short Rib 1" Fahrenheit Truck. In addition, gourmet food-truck operator Chef Chris Hodgson, who achieved nationwide recognition when he finished second on Food Network's The Great Food Truck Race this year, will bring the famous "Hodge Podge" truck showcased on the series. Hodgson recently opened Hodge's in downtown Cleveland with restaurateur Scott Kuhn.
Early bird Grand Tasting tickets are available until June 1, 2012, for $130 each ($150 from June 1 until the day of the event), with VIP Party tickets priced at $250 each ($300 after June 1st). To purchase tickets and learn more about the event, visit http://www.VeggieUFoodandWine.com or call 419.499.7500. Sponsorship opportunities are available and food and wine vendor applications are also being accepted.
The Veggie U Food and Wine Celebration (F&W Celebration) is a unique opportunity to sample culinary masterpieces and wine pairings at the Culinary Vegetable Institute's rustic riverside retreat. The grounds are alive on this summer Saturday with the aromas and flavors of the world's best cuisine, food demonstrations, wine education and samplings, and the chance to contribute to a great cause through the unique offerings of the silent and live auctions. This annual fundraiser benefits Veggie U, a non-profit children's education program that teaches the importance of nutrition and sustainable agriculture by providing interactive lesson plans with a classroom garden kit to elementary schools and special needs students.
###