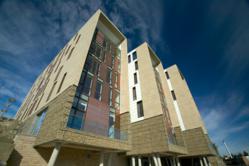 We hear a lot of doom and gloom about the economy in the news but my experience is that things are improving and Barnsley's a great place to be to capitalise on that
Barnsley, South Yorkshire (PRWEB UK) 21 May 2012
Businesses based at Barnsley's Digital Media Centre are bucking the economic trend, with two companies enjoying growth levels that have encouraged them to take extra space.
Whilst national growth figures have recently revealed the economy is back in recession, IT firm Roketix and internet-based estate agent Armitage Residential have both seen such high levels of growth that their current office space was no longer enough.
Roketix is a firm which specialises in enabling businesses to work more efficiently and cost-effectively through new IT systems such as cloud computing.
Paul Kelsall of Roketix said: "I started Roketix three years ago and for a while, a small office just big enough for me was ideal. But I've recently won a big government contract and keep growing my private client base so I'm now taking on staff. We hear a lot of doom and gloom about the economy in the news but my experience is that things are improving and Barnsley's a great place to be to capitalise on that."
DMC Manager Gareth Scargill added: "It's fantastic that both Roketix and Armitage Residential are doing so well, for those directly involved and of course for wider Barnsley."
"At the DMC, we aim to nurture growing businesses and provide them with a space that can grow with them – this is a great example of that working in practice. We're thrilled that businesses based here in the DMC are growing and creating new jobs which of course has huge knock on effects for the town in general."
Barnsley Digital Media Centre is home to a number of successful companies spanning the creative, media and digital sectors and offers affordable office space in the centre of the town. New and growing companies can also benefit from free business support and access to specialist advice.