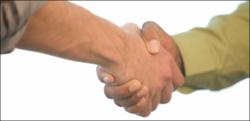 I am thrilled that there is someone out there enthusiastic to work with a smaller business like mine.
Ventura, CA (PRWEB) May 17, 2012
"I needed lease help. Wade was able to get our $1,350.00 per month lease renegotiated down to $900.00. That monthly saving may seem small to most companies, but for us it's huge," says Diane, a company representative. "I am thrilled that there is someone out there enthusiastic to work with a smaller business like mine. Silent Partner Negotiators was also willing to do it on a contingency basis. I only pay a small percentage of what I'm saving each month."
"The intention in starting Silent Partner Negotiators in early 2010 was to specifically help small business entrepreneurs who either didn't have the time, experience or resources to try lease renegotiation," explains Wade Horigan, Principal at Silent Partner Negotiators. "We have been successful in 70% of our contingency cases. That way, if we cannot get the landlord to reduce the rent, it costs our client nothing for the effort. We couldn't sustain that business model if it didn't work a high percentage of the time."
Lease renegotiation is ideal for companies who are still in a lease with six months or more left on their contract. It can be accomplished through various techniques including rent relief petitioning and "Blend and Extend" contracts for clients willing to trade a longer term for a permanent reduction in current lease rates.
Silent Partner Negotiators has been helping clients reduce their business lease costs through principled lease negotiation and renegotiation. They offer full-service, contingency-based existing and renewing lease renegotiation for qualified clients. They have also developed their techniques and put them into a low-cost, Professional Guide to Lease Renegotiation that includes 25 pages of lease renegotiation letter samples from actual, successful renegotiations.
For more information, please contact Wade Horigan directly at (805) 320-4801 or by email: wade(at)SilentPartnerNegotiators(dot)com. Website: http://www.SilentPartnerNegotiators.com.