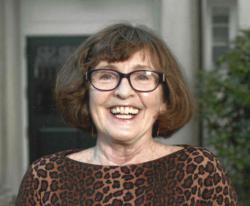 KnowledgeWorks has consistently shown itself to be an organization which is focused on transforming the world of K-12 education from a world of schooling to a world of learning.
Cincinnati, OH (PRWEB) May 17, 2012
Eileen Rudden, an information technology pioneer and hands-on advocate for improving public education, has been appointed to the Board of Directors of KnowledgeWorks, President and CEO Brian Ross announced today.
Rudden, who served on the KnowledgeWorks board from 2008 to 2010, recently served as Chief Officer, College and Career Preparation at Chicago Public Schools. At CPS, Rudden led the efforts of the third largest public school system in the United States to increase college access and persistence and to reinvent career and vocational education. She was a 2009 Broad Fellow and graduate of the Broad Superintendent's Academy, a rigorous, 10-month program that places successful executives into urban school districts to help those districts transform into effective public enterprises.
At KnowledgeWorks, Rudden will help direct the efforts of the social enterprise as it seeks to expand its innovative approaches to education nationwide through two high school transformation subsidiaries and its "Cradle to Career" collective impact initiative to help communities improve education outcomes for kids.
"KnowledgeWorks has consistently shown itself to be an organization which is focused on transforming the world of K-12 education from a world of schooling to a world of learning," Rudden said. "I am attracted by its New Tech Network High Schools, its Strive community cradle-to-career approach, and Ed Works' ability to create early college high schools, STEM schools and turnaround schools."
KnowledgeWorks Board Chairman Joseph P. Tomain said Rudden's rejoining the board enhances KnowledgeWorks' strategic focus. "Eileen returns to the board as a Broad Fellow and having helped the nation's third-largest school district move forward the college and career readiness agenda," Tomain said. "Her perspective is invaluable as we strive to equip students for the future and help communities support children from cradle to career."
Ross said he is looking forward to Rudden's expertise on the board. "Eileen's ability to ask insightful questions and challenge us to always keep student achievement at the center of our work is a hallmark of her leadership," he said.
Rudden holds a bachelor's degree from Brown University and an MBA from Harvard, and has been a leader in the innovative software industry for more than 25 years. She currently serves as Board Chair of SoundBite Communications, an emerging company providing cloud-based customer communications, as well as advising education software startups such as The Achievement Network, A Better Lesson and Testive.
She formerly led the Unified Communications Division of Avaya, a Fortune 500 global business communications leader. A 14-year veteran of IBM's Lotus Software unit, Ms. Rudden was senior vice president and general manager responsible for Lotus Notes and Domino email and collaboration software. She was a member of IBM's Technical Leadership Council. Early in her career, Rudden was a manager at The Boston Consulting Group.
In education, Rudden served on the board of trustees of Brown University from 2003-2009. She was the elected President of the 70,000 member Brown Alumni Association and is currently the Chair of the Advisory Committee on Computing and Information Technology at Brown. Rudden is also former Treasurer and trustee of Lesley University, a major provider of graduate education to classroom teachers in the United States, and currently serves on Lesley's Leadership Council.
KnowledgeWorks is bringing the future of learning to America's high schools and creating widespread, lasting change in the communities and states we serve. Our portfolio of high school approaches includes New Tech Network high schools, EDWorks New Start, Fast Track and STEMLab high schools. Building on the principles of collective impact, our Strive subsidiary is helping communities create the civic infrastructure to unite stakeholders around shared goals, measures and results in education and organizing a national network of cradle-to-career communities.