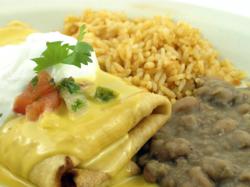 Vancouver, BC (PRWEB) May 18, 2012
According to Unifiller's Stewart Macpherson, VP of Sales and Marketing, "Depositors offer a great solution to ramping up production and increasing efficiency in Mexican food production. Depositors can be used in mexican food production for the precise portioning of fillings and sauces for burritos, taquitos, empanadas and more."
Depositors, like the Pro1000i, ensure a precise portion of fillings like refried beans, chicken, beef or any other surry filling everytime, ensuring consistency of quality and taste - elements critical to the reputation of food brands.
Ideal for Mexican food entrees, a depositor can accurately portion sauce into tubs, onto products or into trays; whether its salsa, quacamole, enchilada, chili, cheese or sour cream sauce.
To further optmize the process, a transfer pump can be used to feed the depositor from a bowl or kettle for continuous production. Or configure a system by combining a photo sensor and conveyor with a depositor, to automate the process and ensure target specific depositing.
Other benefits of integrating a depositor into a food production line include:

speeding up production to meet increased demand
increasing production efficiency
reducing product waste
managing labor costs
full washdown allows for quick product change-over
ability to handle chunky to aerated products for various applications
For more information about Unifiller depositors, check out http://www.unifiller.com or email info(at)unifiller(dot)com.