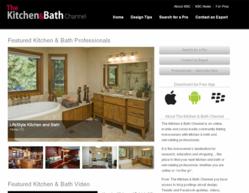 These new website additions provide the professional another avenue to display their knowledge and talents and the homeowner with additional information and ideas
Chapel Hill, NC (PRWEB) May 18, 2012
The Kitchen & Bath Channel announced today the addition of two new website features – a Project Gallery and Design Tips Blog – each designed to assist consumers in their search for kitchen and bath professionals, remodeling information and design ideas.
The Project Gallery features professional photographed images of kitchens, baths and other spaces designed and built by industry professionals throughout the US. Visitors have access to each designer's complete profile, as well as contact information to gather additional insight into the project from its designer. Or the homeowner can simply use the images as inspiration for their own homes.
The Design Tips Blog features valuable information provided by kitchen and bath industry professionals and other authors for homeowners in the remodeling process. Topics range from budgeting for a renovation to healthy eating in your new kitchen to designing for aging-in-place, and are often suggested by the readers themselves.
In addition to these two new features, The Kitchen & Bath Channel website features an extensive directory of professionals, searchable by consumers from over a dozen different criteria, including location, expertise and room they want to renovate.
Beyond the website, The Kitchen & Bath Channel includes a YouTube Channel, social media sites, and smartphone apps, all working together to link homeowners with kitchen and bath professionals.
"We are continually looking for ways to expand our reach to both the kitchen and bath industry professional and the homeowner – in an effort to link the two. Both of these new website additions achieve that goal. They provide the professional another avenue to display their knowledge and talents and the homeowner with additional information and ideas," said Kitchen & Bath Channel co-founder and partner, Philip D. Zaleon.