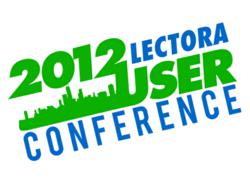 Not only will the Lectora User Conference draw record-breaking attendance, but over half of the attendees are joining us for the first time ever, mirroring the growth we're seeing everywhere in our business
Chicago, IL (PRWEB) May 22, 2012
The eighth annual Lectora® User Conference kicks off tonight in Chicago with record-breaking attendance. Hosting more than 600 e-Learning professionals from around the world, this premier event provides two full days of e-Learning tips, tricks and sessions with some of the best and brightest in e-Learning and innovation. With a 40% attendance increase over last year's record breaker, the Lectora User Conference continues to grow and confirms its popularity amongst e-Learning developers, trainers and industry experts from all over the world.
"Not only will the Lectora User Conference draw record-breaking attendance, but over half of the attendees are joining us for the first time ever, mirroring the growth we're seeing everywhere in our business," said Peter Bray, Chief Marketing Officer at Trivantis Corporation. "Professionals in more than 14 countries will arrive from all over the world to experience in-depth e-Learning and hear from not one, but three of the most sought-after keynote speakers today including Erik Wahl, Jeremy Gutsche and IBM's Sandy Carter."
The 2012 Lectora User Conference will host some of the greatest e-Learning experts, tips, experiences and opportunities in the industry:

Dozens of e-Learning breakout sessions and unique one-on-one opportunities with Lectora e-Learning software developers and award-winning e-Learning practitioners
Two fun and exclusive networking events – one hosted atop Willis Tower, one of the most in-demand event spaces in Chicago
Attendees will gather at the conference from countries all over the world including China, Australia, Singapore, New Zealand, Taiwan and several European countries
The 1920s Speakeasy Welcome Reception tonight, May 22, will kick off this premier e-Learning event with a trip back to the roaring twenties. Attendees will gather at the Chicago Marriott Downtown Magnificent Mile for a memorable night of cocktails, hors d'oeuvres, casino games and valuable networking opportunities.
The Lectora User Conference will post live updates, news and blogs during the event. For more information about the conference including the full schedule, please visit: 2012 Lectora User Conference.
About Lectora® and Trivantis® Corporation
Lectora® is the world's leading e-Learning software used by most Global 2000 companies in more than 125 countries and is offered in six languages. The Lectora line of e-Learning products includes Lectora Inspire, Lectora Online, Lectora Publisher and Lectora Integrator. Trivantis® also produces Flypaper™, the leading Flash content creation platform that empowers users to create, edit, share, track and reuse high-impact Flash and video content. Snap! by Lectora® is the easy-to-use PowerPoint plug-in rapid e-Learning software that converts PowerPoint to Flash. Its sister product, Snap! EmpowerTM Flash interactions builder, enables anyone to create Flash content without having to know Flash programming. To round out the Trivantis family of products, CourseMill® is the powerful and affordable learning management system (LMS). The latest release, Lectora Talent Management, provides the link between course management and true talent development for companies and organizations. Headquartered in Cincinnati, Ohio, Trivantis Corporation also has offices in Boca Raton, Phoenix, Paris and London. Trivantis, Lectora, Flypaper, CourseMill, Snap! by Lectora and Snap! Empower are trademarks of Trivantis Corporation.
Website: http://www.Trivantis.com
Phone: 877.929.0188
Facebook: facebook.com/Trivantis
Twitter: twitter.com/Lectora
Blog: trivantis.com/blog & rapid-e-learning.trivantis.com/e-learning-blog