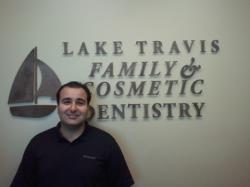 Our Mission is to offer caring and compassionate dentistry for children and adults.
Austin, TX (PRWEB) May 18, 2012
Dr David Panahi DDS has been in the Austin, Texas area for six years and has proudly opened his office in the Lakeway area near the Steiner Ranch and Four Points Austin Developments. The beautiful, spacious 2,650 square foot office space makes a comfortable and pleasant atmosphere for all patients. Highly advanced technology makes this Lakeway office one of the most technologically advanced offices in the Austin area. The practice is accepting new patients and many insurances are also welcome.
Dr. Panahi at Lake Travis Family & Cosmetic Dentistry believes that everyone in the family deserves a beautiful affordable smile. At Lake Travis Family and Cosmetic Dentistry, they practice comprehensive care to a wide spectrum of patients from children to adults. Most dental procedures can be done in the office, such as root canals, tooth extractions, tooth colored fillings, implant crowns, and partial dentures. Nitrous Oxide Conscious Sedation is available in every room as well as soft pillows and blankets. His emphasis on patient comfort as well as keeping up-to-date with the latest advancements in dentistry enable him to provide his patients with the best quality of care in the dental field. Dr David Panahi has a wide range of experience in different areas of dentistry, from cosmetic and restorative dentistry to surgical and root canal treatments.
Their mission is to offer caring and compassionate dentistry for children and adults.They pledge to develop the personal and professional skills through continuing education in all fields of dentistry. They are excited to be leaders in the Lakeway community and set examples for good dental health, education and prevention.
Dr. Panahi attended the University of Texas Health Science Center in San Antonio. He has been a dentist for years and has been through several post graduate courses in different fields of dentistry since receiving his D.D.S. degree in 2006.
Dr. Panahi is certified in sedation, both conscious nitrous oxide sedation and conscious oral sedation. He is a member of ADA (American Dental Association), TDA (Texas Dental Association), and Capital Area Dental Society.
The staff at Lake Travis Family and Cosmetic Dentistry will welcome patients with kindness and professionalism. The staff has many years' experience and is very knowledgeable in the dental field.
Lake Travis Family and Cosmetic Dentistry specializes in general dentistry with affordable prices located at 1605 RR 620 N. Ste 300 Lakeway, TX 78734. Please call 512-382-6988 to make an appointment.