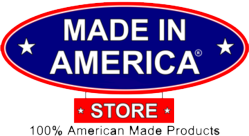 Elma, New York (PRWEB) May 18, 2012
It was big news when the Made In America Store debuted just in time for memorial day weekend a little more than two years ago. In fact, it was covered by print and electronic media throughout the world.
But, what owner Mark Andol will announce to the media and the world on Thursday, May 24th at 11am, could be characterized as three times bigger.
This important event marks the latest chapter in a truly amazing "all American" story that has captured the attention of international media and re-kindled the pride of the American people in American workmanship.
This latest positive development follows the recent launch of the store's new domain name, http://www.MadeInAmericaStore.com, which expanded the number of 100% American-made online products to over 2700. The brick and mortar store in Elma carries more than 4000 items.
The Made In America Store is now a "World class destination", welcoming tour buses with people from around the world. Americans and others come from "far and wide" to experience what everyone is talking about.
As the leader of the "Buy American" movement that is sweeping the country, the store's may 24th announcement is sure to generate more growth, more media "buzz" and more American pride.
This big news is also important, as it will create and save American jobs around the U.S. and here in Western New York. Mark will tell you that he created the store, "Because china is a long drive to work!" His mission statement reads, "for country, soldier, the American worker, and our children's future."
The made in America store is located at 900 Maple Street in Elma, NY, the epicenter of the "made in America" movement and is committed to selling 100% American manufactured products. You can visit http://www.MadeInAmericaStore.com for more information or shop our catalog of over 290 vendors that are devoted to producing USA made products. All US military personnel both active duty and retired receive a discount every day. Consumers can also keep up to date news articles, events, photos and contests with Facebook, Twitter, Google+, Pinterest and Tumblr!