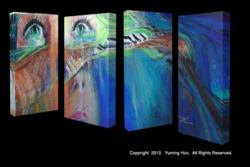 "No other graphics company in the world offers our acoustics, and no other sound panel company in the world offers our graphics. We stand alone on a unique space in time." Mark Rustad, President, PicturePanels.com
Miinneapolis, MN (PRWEB) May 23, 2012
PicturePanels.com designs custom imaged sound panel treatments for noise infested bars and restaurants. The panel systems are highly decorative, offering stunning visual presentations to a space while simultaneously capturing echoes and controlling crowd noise. Wall or ceiling mounted, these beautiful acoustic panel systems can retrofit into existing spaces, or recess into new design/build plans. They are the wave of the future in the hospitality industry, and were the big hit at the National Restaurant Association trade show in Chicago in May, 2012.
"The sound panel industry has long ignored the digital age of technology, placing out-dated, plain cloth wrapped soundproofing panel systems into spaces to capture echoes" says Mark Rustad, President of PicturePanels.com. "For some spaces, they work great to collapse perimeter noise, but in the hospitality industry, they also serve to compromise on the design and look of a room."
But not any more. In today's marketplace, these same sound panel systems are now wrapped with custom imagery used to brand a space and produce a visual WOW factor. Mark continues:
"Today, however, thanks to our dye sublimation technology, we can print most any graphic, logo, image or work of fine art onto the face of our panel systems and stretch them across walls or ceilings to control background noise. This eliminates the strain of conversation in a loud restaurant, while accenting the room with beauty. Our panel systems deliver a visual feast for the eyes, and silence to the ears. So much so, in fact, that Architects are now designing new build or remodel projects around the visual experience that our custom imaged sound panels generate. We've become a fore thought, not an after thought, to the design of a room"
Designer sound panel systems are tailored to the specifics of a space, each treatment is like a snowflake. These soundproofing panels are cut to match most any size or cavity space, while the image options are limitless. Clients are able to submit their own logos, graphics and images for printing onto the face of their panel system. They can also shop online at http://www.PicturePanels.com where both a Photo Library and an Art Gallery await.
Inside the Photo Library, more than 17 million images are license protected and available for replicating onto the face of a PicturePanel treatment. A single image can be stretched across multiple panels to create a mural, or separate images can be printed onto separate panels that can be staggered around a room's perimeter. Clients can source images that match the theme to their space, while jpegs can be enlarged to billboard size as needed.
The Art Gallery takes the visual experience to the next level. A roster of World Class Artists has agreed to license their work for clients of PicturePanels.com. Thumbnails of their work are showcased in the Gallery. Clients can select their favorite pieces, or commission their favorite artist to produce new custom Fine Art Sound Panels to brand their space. Designers and Architects around the world can now source Fine Art to brand hospitality space with acoustical panels. Fine Art has become functional.
Each PicturePanel treatment starts with a complimentary Room Analysis. The Analysis calculates the square footage of a panel system that should be targeted for each treatment, basing the numbers around the size, shape and surface textures of the room in question. With that target number in mind, clients can determine panel dimensions, location and the imagery to go with their treatment. With limitless design options, the panels become the focal point to the space, while the acoustics dramatically improve and protect the long term repeat business for the owner.
PicturePanels.com is backed by 20 years of industry experience. They make their customer's needs their top priority. Says Heather Keenly with Lola's on Harrison in Hollywood, Florida: "I wanted to let you know that we are SO pleased with our new panels. We hired someone to install them - and the difference was immediately noticeable. Guests have responded positively and we are happy to have put our "echo" issue to sleep. Thank you!"
With the NRA show now in the rear view mirror, the phones have been busy at PicturePanels.com. For more information on designing in these decorative sound panel systems for new build or existing spaces, call today for a Free Room Analysis. You can reach PicturePanels.com at 1-800-600-6715 or visit them online at http://www.PicturePanels.com.