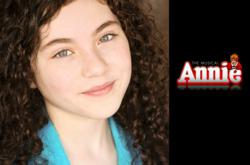 "While there are many wonderful ones, there's nothing that offers what The Playground offers for young actors. The technology available for on-camera techniques and auditioning skills can only be found at The Playground."
Century City, CA (PRWEB) May 19, 2012
From the beginning of movie musicals in the late 1920s, Hollywood imported talent from Broadway. That's why the casting of Los Angeles-trained Lilla Crawford in "Billy Elliott" and now as lead in this fall's revival of "Annie" might seem surprising to some.
Ms. Crawford's schooling in musical theatre at the Youth Academy of Dramatic Arts (YADA) included participating over a dozen in-house productions. During the summer of 2010, Lilla's parents enrolled her in Gary Spatz's The Playground, A Young Actor's Conservatory for professional polishing in acting, on-camera training, cold reading, and audition skills.
Her teacher, Darcy Martin ("Grey's Anatomy," "Without A Trace," commercials for Ford, FedEx, Folgers, Wal-Mart), said Lilla excelled at them all. "I would assign homework – to create a character and write and perform a monologue for class. Lilla would come in the next day with three characters and monologues, and do them all."
Darcy knew she had a very special young lady in her charge. She remembers walking into Gary's office before the summer was over, sitting down, and saying, "I have nothing more to teach Lilla. I could nitpick, but I think that would be counter-productive. It might inhibit her." Gary tossed out some ideas that had a very light touch. "He was very helpful."
Like Lilla Crawford, Ms. Martin now makes her home in New York City. "Along with working and auditioning, I've checked out most of the acting studios here." she said. "While there are many wonderful ones, there's nothing that offers what The Playground offers for young actors. The technology available for on-camera techniques and auditioning skills can only be found at The Playground."
For further information, including interviewing Gary Spatz contact Don Smith.