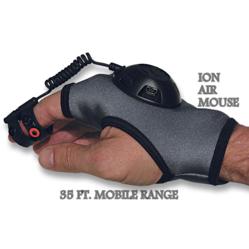 Players Sit back Relax Enjoy the Mobile Freedom.
(PRWEB) May 18, 2012
Who knows how many computer mouse designs are out there. Bellco has the first available computer mouse glove. This new Ion wireless air mouse glove has a mobile range of 35 ft and controls the computer cursor from anywhere in the room. Stop stressing over the desktop mouse. Bellco say's go mobile; move around sit back, rest your arm on the big chair. The Ion air mouse glove works with simple small movements of the wrist with the right and left click button at one's fingertip.
Bellco says online casino gaming and golf tournaments are growing leap and bounds and the need for a more comfortable gaming experience is growing as players are spending more time in front of the computer. Now that big screen TV's are everywhere it is easy to play on the big screen, just connect your laptop computer to the TV through a HDMI cable.
The Ion wireless air mouse computer glove is simple to setup just plug the USB mini module and turn it on, it operates with Windows, Mac, Linux and Android. Bellco says its new radio frequency technology for the computer mouse has room to grow and has new designs and colors in the works to suit all users.
Bellco is offering merchants and re-sellers opportunities with its new product, for more info contact: pbellco(at)gmail(dot)com
The Ion 3D wireless air mouse glove is available online for $79.95 at http://www.ionwirelessairmouse.com