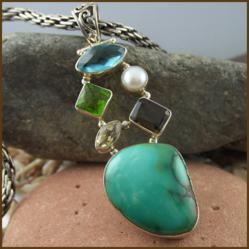 KVS Pasal jewelry and cashmere is styled to captivate and symbolize the contemporary spirit.
Chandler, AZ (PRWEB) May 22, 2012
The foremost online source for unique sterling silver jewelry and cashmere, KVS Pasal, is offering 40% off site wide to celebrate Mother's Day.
"The sale extends to must have pieces of sterling silver chains, cuffs, bracelets, necklaces, earrings and cashmere scarves," says Victoria Vacala, the owner of the company. "Many of the jewelry pieces on sale are set in Nepal with unusual stones that come from all over the world, including India, China, and particularly Bali, where the pearl, shell, sponge coral, mother of pearl and abalone are found." "The cashmere exhibit unique weaving patterns handwoven in Nepal."
Why buy from KVS Pasal? Quality and aberration has been the concentration of KVS Pasal given the firm launched in 2006. Victoria Vacala, owner of the company, says "KVS Pasal functions delicately with the artisans in Nepal to pattern valuables that are of the upmost high quality and strives for designs & weaves that make a statement. Many of the jewelry pieces are one of a kind."
About KVS Pasal
Founded in 2006, KVS Pasal is a Phoenix, AZ area based business with an online presence at kvspasal.com. Products are also available in various boutiques throughout the USA. Also, KVS Pasal can be found on Facebook and Twitter.