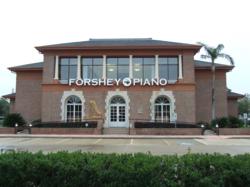 Fred Forshey of Forshey Pianos stated, "This selection is a historic opportunity for the many great Houston area institutions, churches and serious pianists who want to choose their pianos from a wide selection.
Houston, TX (PRWEB) May 18, 2012
Traditionally, the only place where performing arts centers, institutions and serious pianists can select from a large number of new Steinway concert grand pianos is in New York at the famous Steinway Factory Selection Room...That is, until now.
For a few days only, something historic is happening as Steinway & Sons replicates the New York Selection Room experience in Houston Texas.
An large number of concert grand pianos have arrived in Houston for a limited time selection. Steinway & Sons has selected Houston for this selection site because of its thriving arts community and the high demand for Steinway concert grands in the metro area.
The selection will take place at Houston's exclusive Steinway representatives, Forshey Piano Company. Forshey Piano is a multiple award winner as Steinway's top dealer for service and technical expertise. Their ability to custom prepare Steinways for the most demanding pianists and venues is nationally recognized.
This factory selection will include Model D (9' Concert Grands), Model B (6' 11" ), Model A (6' 2" G), and Model O (5' 11" ) and is open by reservation.
Only 12 time slots (two each day) are available Tuesday, Wednesday & Thursday, May 22-24, and on Tuesday, Wednesday & Thursday, May 29-31. Reservations can be made by calling 281.286.6300
Location: Forshey Piano -1240 Clear Lake City Blvd-Houston, just 20 minutes south of downtown Houston.
Contact: Fred Forshey -281.286.6300