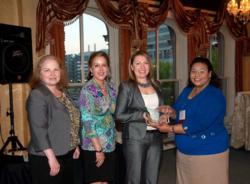 Washington, D.C. (PRWEB) May 18, 2012
The Maryland Chapter of the Public Relations Society of America (PRSA) recently named Stanton Communications a "Best in Maryland" award-winner for superior work on behalf of the State of Maryland's Office of Tourism Development (OTD), the Maryland State Arts Council (MSAC) and pro-bono service for the 9/11 Memorial of Maryland.
As agency of record for OTD, Stanton Communications provides ongoing public relations support to elevate the State as a tourism destination for Marylanders and other travelers around the globe. Through traditional media outreach, social media engagement and event promotion, the team successfully raised Maryland's profile and contributed to a steady increase in the number of leisure travelers to the State.
"The team at Stanton Communications has helped us increase our media exposure year over year with favorable coverage of Maryland's many sights, attractions and unique attributes," said Margot Amelia, Executive Director of the Maryland Office of Tourism Development. "I believe that the positive travel-related coverage they have generated over the past several years has helped contribute to the increases we are seeing in visitation."
In addition to ongoing work with OTD, Stanton Communications provides support for MSAC's Maryland Traditions program. This collaborative, statewide initiative is designed to discover, share and sustain Maryland's living traditions. In 2011, Stanton Communications also provided pro-bono service in support of the State's efforts to build a memorial to the 69 Marylanders who lost their lives on September 11, 2001. From the planning stages to the unveiling on the 10th anniversary of the attacks, Stanton Communications provided strategic communication counsel and public relations outreach.
"Stanton Communications was one of the key partners who assisted in bringing this project to fruition under an extraordinarily tight timeframe – less than a year from start to finish," said Hannah Byron, Assistant Secretary, Maryland Division of Tourism, Film and the Arts and member of the 9/11 Memorial of Maryland Committee. "Because of the team's exemplary work with the media, the 9/11 Memorial of Maryland received significant exposure and now stands in the company of other major arts and cultural icons of Maryland."
Additionally, the Hermes Awards, administered by the Association of Marketing and Communication Professionals, recently recognized Stanton Communications and its client Sprint with a Platinum award for the launch of Sprint's iconic HTC EVO 3D device last year. Working with Sprint's corporate communications team, Stanton Communications supported the launch efforts by securing attendance to the wireless carrier's exclusive media event, and booking and managing a robust schedule of briefings with top tier journalists for multiple Sprint spokespersons. The Arc of Delaware County, which provides quality care to people with disabilities, and Stanton Communications, also received recognition from the Hermes Awards for work to showcase Delarc's successful approach to treatment without ever using corporal or verbal punishment common in similar settings.
"It's an honor to be acknowledged by our peers as one of the best in the business," said Peter V. Stanton, president of Stanton Communications. "These awards also recognize our clients' dedication to superior communication programs focused on measurable gains for their agencies and businesses," he concluded.
About Stanton Communications
Stanton Communications, Inc. is a national public relations firm with multi-category expertise. The firm represents some of the world's leading companies in telecommunications, energy, transportation, fabrics and travel and tourism, providing them with corporate counsel, marketing communications and public affairs services. Stanton Communications is active internationally through its leadership of the multi-national alliance of independent PR firms, PR World Alliance. Now in its 23rd year, the firm remains intensely focused on client service excellence. For more information, visit http://www.stantoncomm.com.