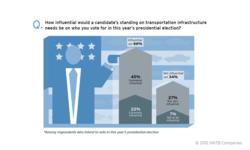 Our highways, bridges and other transportation infrastructure are essential assets that support growth and investment in the U.S. economy.
Kansas City, MO (PRWEB) May 18, 2012
A new survey from HNTB Corporation finds two-thirds (66 percent) of Americans who intend to vote during this year's presidential election feel that a candidate's standing on American transportation infrastructure will influence their decision; more than one in five (22 percent) say this will be extremely influential on who they vote for.
"Our highways, bridges and other transportation infrastructure are essential assets that support growth and investment in the U.S. economy," said Pete Rahn, HNTB leader national transportation practice. "People expect them to be resilient, reliable and safe."
Clearly, Americans hold the nation's infrastructure in high regard. Nearly nine in ten (89 percent) Americans feel it's important for the federal government to fund the maintenance and improvements of interstate highways.
Yet, this infrastructure isn't receiving the fiscal attention it deserves. Congress recently approved the ninth extension of transportation legislation that originally expired in 2009. The Highway Trust Fund – due to inflation, rising construction costs and increasingly fuel efficient vehicles – no longer collects enough money to support the U.S. surface transportation system, remaining solvent only through a series of infusions from federal general revenue funds.
More than half of Americans (57 percent) believe the nation's infrastructure is underfunded.
The uncertainty over a long-term bill also is a challenge for state departments of transportation, which rely heavily on federal funding to support major highway and bridge programs, and creates ambiguity for planners and contractors who need the certainty of a long-term bill to commit to large, complex multiyear projects.
"The absence of a long-term bill is hurting our economic competitiveness," said Rahn. "Recent efforts by the House and Senate to move discussions into a conference committee and hammer out potential details of a bill are a step in the right direction, but what's really needed is a stable, long-term authorization that can adequately pay for our transportation system."
Overall, 4 in 5 (80 percent) Americans would rather increase funding and improve roads and bridges than continue current funding levels and risk allowing our roads and bridges deteriorate.
The challenge is finding sustainable and sufficient revenue sources. More than 3 in 5 (61 percent) Americans would prefer to allocate funds for these projects through tolls.
Currently, there are a few opportunities to toll the nation's interstates. There are two federally approved pilot programs. One would allow up to three existing interstate facilities to be tolled. Slots have been secured for Interstate 70 by Missouri and, individually, portions of Interstate 95 by both North Carolina and Virginia. Another program would allow three new interstate highways to be tolled. One slot has been secured by South Carolina for what is slated to become Interstate 73. None of the states have finalized plans to move forward, and any additional opportunities would need to be legislated by Congress.
Rahn said the expansion of tolling makes sense for busy highways and interstates. "It's a proven source of funding that charges users on the road rather than at the pump. Plus, modern electronic tolling is quick and easy for motorists, allowing them to complete a transaction at highway speeds, no longer having to stop at toll booths."
About the survey
HNTB's America THINKS national highway survey polled a random nationwide sample of 1,024 Americans April 2-10, 2012. It was conducted by Kelton Research, which used an e-mail invitation and online survey. Quotas were set to ensure reliable and accurate representation of the total U.S. population ages 18 and over. The margin of error is +/- 3.1 percent.
About HNTB
HNTB Corporation is an employee-owned infrastructure firm serving public and private owners and contractors. With nearly a century of service, HNTB understands the life cycle of infrastructure and solves clients' most complex technical, financial and operational challenges. Professionals nationwide deliver a full range of infrastructure-related services, including award-winning planning, design, program delivery and construction management. For more information, visit http://www.hntb.com.