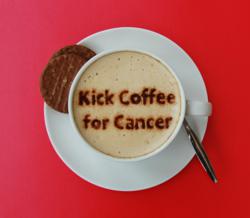 (PRWEB) May 18, 2012
We're talking about coffee, folks! Did you know that if you were to donate the cost of your morning latte just ONCE this year, you could cover the costs of numerous cancer research projects?
That is, if 31,249 other people joined you.
With May being recognized as National Cancer Research Month, the Mesothelioma Cancer Alliance has launched an initiative to persuade some of America's 100 million daily coffee drinkers to donate the cost of one cup towards cancer research; a small sacrifice as compared to the 18 billion dollars spent on specialty coffee drinks each year.
"Kick the Coffee for Cancer Research," a week long initiative, begins on May 18th and lasts until May 26th. During this week, the Mesothelioma Cancer Alliance is hoping to raise $125,000 for cancer research. It may not seem like much, but a sum as low as this could help fund numerous projects, like this one by the Upper Michigan Brain Tumor Center costing only $5,000. It could even cover the National Cancer Institute's requested funds for clinical trials in 2012.
With more than 570,000 Americans dying of cancer each year, the need for cancer research is paramount. By participating in MCA's "Kick the Coffee for Cancer Research" campaign, clinical trials can be funded and research efforts can bring the medical community closer to finding a cure.
To view the full infographic and participate, please visit the Kick the Coffee for Cancer Research campaign page. All proceeds will be directly donated to the Cancer Research Institute, one of the highest rated non-profit cancer research organizations in the world.
Join the Movement! Kick Your Cup for Cancer Today!