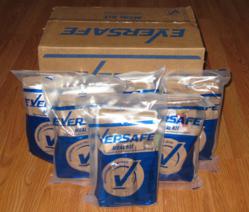 The most common alternative use [for MRE's] would be for camping and hiking
Destin, FL (PRWEB) May 20, 2012
Although the MRE was adopted by the Department of Defense for combat rations in 1975, they didn't become the official staple for U.S. combat troops until 1988, and became a household name during Operation Desert Storm (http://www.mreinfo.com). The MRE is now available in civilian packaging for everyday consumption. The advantage of using MRE's vs. other survival foods (including freeze dried food supplies) is that the MRE is fully self-contained including the entrée, drink, desert, utensils, and even a heater to warm up the meal.
Besides having the MRE for survival after hurricanes, floods, earthquakes, or blizzards, this little food pouch has many other uses. The most common alternative use would be for camping and hiking. Using the small and lightweight MRE eliminates the need to bring dishes, utensils, and cookware to prepare a meal. This will allow more food to be packed in less space with less weight.
Taking the MRE to sporting events and music concerts is another practical choice. The cost of a MRE compared to vender prices at these events, plus the time spent standing in line or giving up a key lawn seat to get food, makes the MRE a practical alternative for these events.
Fishing trips, boating excursions, cross country biking, or outings at the beach can all have uses for the MRE as well. With a shelf life of over 2 years, the MRE is something that can be stocked up for whatever the need may be.
Disaster Relief Supply carries the Eversafe brand of MRE's (who is a large supplier to the U.S. military). Other survival foods and supplies are also carried by Disaster Relief Supply for Emergency Preparedness and Disaster Recovery.