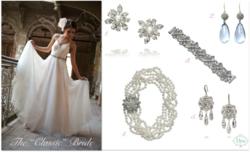 The Merci New York Style Shop on NewlyWish provides brides everywhere with stylist-approved accessories for every style and budget to help them personalize their wedding-day look.
New York, NY (PRWEB) May 21, 2012
Manhattan-based fashion styling house, Merci New York has officially launched its boutique with online gift registry service NewlyWish to offer a tightly curated selection of bridal accessories and jewelry.
The Merci New York Style Shop, is the newest member of NewlyWish's network of vibrant brands and service providers. Brides worldwide can now purchase Merci New York's exclusive collection of custom designer jewelry, hair accessories and handbags, which were previously only available exclusively to Merci's private styling clients.
"As Manhattan-based stylists, our mantra is to provide chic style for the busy city bride," says Merci New York founder, Jacqueline Weppner. "We are thrilled to announce our partnership with NewlyWish as it extends our services to fashionable brides beyond our beloved city limits. NewlyWish allows brides from around the world to experience a taste of our NYC-based styling services and create a wedding day look that truly reflects their personal style."
With runway fashion trends playing an increasingly influential role in the Bridal Market, the Merci New York Style Shop is a place for fashionista brides to find unique and chic accessories to help them look and feel fabulous on their wedding day. The meticulously curated selection of accessories in the shop reflects timeless style infused with cutting edge fashion.
The Shop includes a hand-picked assortment of clutches, jewelry and hair accessories from featured designers Madame Mathilde, Untamed Petals, Preston and Olivia, Elizabeth Bower, Roberta Chiarella, Tessa Kim and Jannie Baltzer. Many of the products in the shop are one-of-a-kind, allowing brides to create a chic bridal look all their own.
"We are so thrilled to have Jackie and Merci New York join our network of stylish boutiques and fine brands," says Amanda Allen, Founder of NewlyWish. "Jackie's eye for finding unique and chic accessories is right in line with our goal of helping our clients find gifts and accessories that fit their life and style. The inclusion of exclusive and one-of-a-kind pieces makes the Merci New York Style Shop a truly special place, and something we are proud to help bring to market."
For more information about the Merci New York Style Shop on NewlyWish, contact Amanda Allen at 212.348.6115 or by email at amanda@newlywish.com
About NewlyWish
NewlyWish is an online gift registry service built on the mantra that the registry should be as special and personal as every other part of the wedding. To deliver on this promise, NewlyWish provides couples access to a hand-picked collection of chic boutiques, top designers, and the finest brands, offering unique finds and stylish home goods to help couples create gift registries that they can truly love. Find wonderful wedding party gifts and unique bridal accessories curated by some of the best in the business. To learn more, visit http://www.newlywish.com
About Merci New York:
With runway fashion playing an increasingly influential role in the Bridal Market, Manhattan based fashion styling house Merci New York is both refuge and reference for the chic city bride. Merci New York works hand in hand with brides, editors and photographers to develop flawless, cohesive and beautifully styled looks and vignettes that showcase their clients' style and aesthetic. In addition to their private styling services, brides nationwide can tap the well-curated eye of our stylists through the Merci New York Style Shop on NewlyWish, an online platform with a range of beautiful accessories, many of which are one-of-a-kind and exclusive to Merci New York. From the city-chic, to the vintage, to the classic bride, Merci New York has a little something to accommodate everyone's personal style. Visit the Merci New York blog and website.